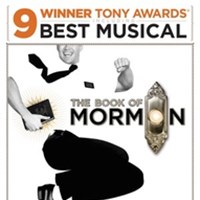 Fans should lock in The Book of Mormon Tickets now for God's Favorite Musical with tickets from eCityTickets.com.
(PRWEB) September 11, 2013
The Book of Mormon tickets for the better Orchestra and VIP seats and are still available at many venues on the U.S. tour. Over 30 cities have been announced for the production through July of 2014. The Book of Mormon is a perfect blend of shocking truths and entertaining tales, depicting Mormonism as mainstream both in religion and philosophy. And though the postmodern comedy will certainly offend some, those with a parallel sense of humor can't get enough of the brilliant creativity that exudes from the stage. Fans can find the complete tour schedule and purchase tickets directly from eCityTickets.com by following this link: The Book of Mormon Tickets.
2013 – 2014 Tour Schedules:
New York – Broadway - Eugene O'Neill Theatre
Chicago - Now – Oct. 6th - Bank of America Theatre
Houston - Sept. 3rd – 15th - The Hobby Center
San Antonio - Sept. 17th – 29th - Majestic Theatre
Austin - Oct. 1st – 13th - Bass Concert Hall
Omaha - Oct. 12th - 20th - The Orpheum
New Orleans - Oct. 15th - 27th - Saenger Theatre
Denver - Oct.29th – Nov. 24th - The Buell
Orlando – Oct. 29th – Nov. 10th - Bob Carr PAC
Tampa – Nov. 12th – 24th - Straz Center
Ft. Lauderdale – Nov. 26th - Broward Center
San Francisco – Nov. 27th – Jan. 19th - The Orpheum
Charlotte – Dec. 26th – Jan. 15th - The Belk
Cincinnati – Jan 7th – Jan. 26th - The Aronoff
Los Angeles Jan. 21st – March 16th - The Pantages
Atlanta – Jan. 28th – Feb. 9th - The Fox
Durham – Feb. 11th – 23rd - Durham PAC
Baltimore – Feb. 25th – Mar. 9th - The Hippodrome
Schenectady – Mar. 11th – Mar. 16th - Proctor's Theatre
Hartford – Mar. 18th – Mar. 30th - The Bushnell
Boston – April 1st – April 27th - Boston Opera House
Providence – April 29th – May 11th - Providence PAC
Columbus – May 13th – May 25th - The Ohio
Costa Mesa – May 13th – 25th - Segerstrom Center
San Diego May 27th - June 8th - Civic Theatre
Louisville – May 27th - June 8th - Kentucky Center
East Lansing – June 10th – June 15th - Wharton Center
Las Vegas – June 10th – July 6th - The Smith Center
Indianapolis – June 17th – June 22nd - Old National Center
Portland - July 8th – July 20th - Keller Auditorium
The main characters in The Book of Mormon are Elder Cunningham and Elder Price, Mormon elders who strive to convert Ugandan villagers into their Mormon faith. In true entertainment style, they are an odd couple, one a blond Mormon poster boy and the other an overweight outcast. Together they are faced with many challenges as the native's battle hardships such as war, disease and violence, hindering their openness to the missionaries. On the surface, the casual observer may think the premise seems simple, but it took nearly seven years of development. Of course eCity Tickets specializes in those hard to find, up close seats, and has great seats in every price range. As one of the leaders in secondary ticket sales, eCityTickets.com offers great seats with budget friendly prices and selection for the savvy fan even when others are sold out. Find The Book of Mormon tickets now to lock in the best seats.