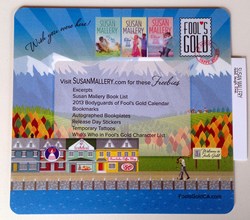 "I look for creative ways to give back to my wonderful readers," says Mallery, who has sold more than twenty-five million books worldwide.
Seattle, WA (PRWEB) August 02, 2013
To celebrate the release of her latest book, Three Little Words, author Susan Mallery has launched a contest on her website, http://www.SusanMallery.com. On Sunday, August 6, Mallery will choose fifty winners at random to receive a limited edition Fool's Gold mouse pad, which doubles as a picture frame. Fool's Gold is the fictional setting of Mallery's most popular series of romance novels.
"I look for creative ways to give back to my wonderful readers," says Mallery, who has sold more than twenty-five million books worldwide. "The reason Just One Kiss and Two of a Kind debuted in the top 10 on the New York Times bestsellers list earlier this summer is because my readers were so excited to get their hands on the books that they rushed out to buy them the moment they were released. That is an incredible honor for me as an author. Contests are a great way for me to show that I appreciate their enthusiasm for my books. This mouse pad is great. It's one-of-a-kind, not available in stores. It's colorful and romantic and fun, and my readers are going to love it. It's not just a mouse pad, it's also a picture frame."
Three of a Kind, the much anticipated third book in the trilogy, was released on July 30 in mass market paperback, e-book, and audiobook. It's a fun, flirty contemporary romance between a Navy SEAL-turned-bodyguard and the girl who wrote to him for years. She's a woman now, mortified that she confessed so many teenage secrets to him in those letters, but he's hard to avoid in small-town Fool's Gold.
While it's the third 2013 Fool's Gold release (and Mallery's fourth release this year), Three of a Kind is the seventeenth Fool's Gold romance, including four e-book exclusive novellas. The Fool's Gold series started in 2010 with the release of Chasing Perfect, and has made regular appearances on bestselling books lists ever since. The Fool's Gold romances have been featured in Cosmopolitan Magazine, Woman's Day, and In Touch.
Readers can enter the contest for the mouse pad/picture frame at http://www.SusanMallery.com.
About Susan Mallery:
With more than 25 million books sold worldwide, New York Times bestselling author Susan Mallery is known for creating characters who feel as real as the folks next door, and for putting them into emotional, often funny situations readers recognize from their own lives. Susan's books have made Booklist's Top 10 Romances list in four out of five consecutive years. RT Book Reviews says, "When it comes to heartfelt contemporary romance, Mallery is in a class by herself." With her popular, ongoing Fool's Gold series, Susan has reached new heights on the bestsellers lists and has won the hearts of countless new fans.
Susan grew up in southern California, moved so many times that her friends stopped writing her address in pen, and now has settled in Seattle with her husband and the most delightfully spoiled little dog who ever lived. Visit Susan online at http://www.SusanMallery.com.