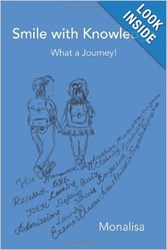 …the book is very enjoyable and informative--all foreign students should read it before coming to the US for higher studies. - Bhaba R. Sarker, Elton G. Yates Distinguished Professor, LSU
New York (PRWEB) October 05, 2013
In Smile with Knowledge, author Monalisa provides a unique perspective using a vivid narrative that keeps the reader mesmerized by the flow of events and characterization. Describing the ground realities faced by an Indian couple when they moved from India to the United States as new immigrants, this book is a first-hand account of life as foreign students in the U.S., along with its myriad perks and challenges. Relating a true story of success while balancing life on a shoestring budget, this is also a book of small hopes, small pleasures, small battles, and small victories, and how all these small things together formed a memorable journey that was larger than life.
The readers are welcoming the book "Smile with Knowledge" with newfound interest about the life of immigrants in the United States and recommending this as a must-read for all international students and faculty. While students would learn to transform everyday struggles into fun experiences, the faculty would benefit by getting sensitized to the challenges faced by international students in a foreign country. Readers are also rediscovering their lives with newfound information on historical perspectives and cross-cultural experiences of living in India and the United States.
"… the book is very enjoyable and informative--all foreign students should read it before coming to the US for higher studies." Bhaba R. Sarker, Elton G. Yates Distinguished Professor, LSU.
Rajat, a New York banker says, "The experience of reading this book is simply scintillating and it makes me look at my expat life with newer perspectives."