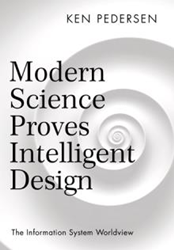 NEW BRAUNFELS, Texas (PRWEB) August 15, 2019
An atheist for most of his life, Ken Pedersen realized that all of the current scientific knowledge supports the conclusion that reality is an intelligently designed multilayered information processing system with a glorious purpose. He wanted to help the next generation realize that science actually supports intelligent design and this objective prompted him to write "Modern Science Proves Intelligent Design: The Information System Worldview" (published by Archway Publishing). For more details about the book, please visit https://www.amazon.com/Modern-Science-Proves-Intelligent-Design/dp/1480863386.
The book discusses the mystical beauty and elegant complexity of the entire intelligent design that modern science has actually discovered, from the bizarre choreography and digital information processing of the subatomic world to the necessity and beauty of the information processing of consciousness, "our mental 'super powers' and the glory of the mental dimension that we roam. You do not have to have a science background to enjoy this easy to read, compelling presentation of how modern science proves intelligent design."
"We are teaching our children that science says that they live in an accidental, purposeless universe and that their lives are meaningless. This is all based upon the false atheistic Accidental Universe Worldview that just refuses to die. We are giving the next generation the worst education possible based upon this obsolete belief. It is time to correct this terrible mistake," Pedersen says.
The publication of "Modern Science Proves Intelligent Design: The Information System Worldview" aims for readers to realize that modern science has proven that they and the entire universe are the result of an extremely intelligent multilayered design and that in this battle of worldviews that the accidental universe crowd is emotionally vested in defending their worldview at all cost. They do everything they can to assure that arguments supporting design and purpose and meaning do not get any hearing in their tightly controlled scientific communities.
"Modern Science Proves Intelligent Design: The Information System Worldview"
By Ken Pedersen
Hardcover | 6 x 9in | 296 pages | ISBN 9781480863392
Softcover | 6 x 9in | 296 pages | ISBN 9781480863385
E-Book | 296 pages | ISBN 9781480863378
Available at Amazon and Barnes & Noble
About the Author
Ken Pedersen has a doctorate in electrical engineering with a strong background in information processing, mathematics and modern physics. He spent his 45-year career as a system engineer working on the leading edge of the development of next generation information processing systems and sensors. During his career, he led teams of hundreds of engineers and scientist in the development of the most sophisticated missile systems. He retired as a vice-president of Raytheon managing their Advanced Systems organization. It was a development group of about 800 engineers and scientists developing the technology, the hardware, the algorithms and the software to design and create the next generation of a wide variety of missile systems. These life experiences have given him an extremely strong background in system engineering and in the evolution of information processing systems and technologies over the last 50 years. He had been an atheist for most of his life. However, after decades of considering the evidence that modern science has accumulated, he came to have a deep appreciation for the stunning design of the universe and life that science has discovered. He lives with his wife, Anne, on Canyon Lake in the Texas Hill Country. Readers can get in touch with him at kenpedersen80(at)yahoo.com.