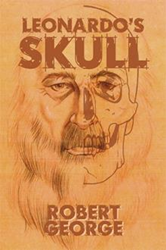 MIAMI (PRWEB) March 28, 2019
Robert George was introduced to Leonardo Da Vinci in the fifth grade. He saw an exhibit of Da Vinci's works in a local museum and was mesmerized by the scope of his work. This prompted him to pen his debut book titled, "Leonardo's Skull" (published by Xlibris).
On the morning of May 2, 1519, Leonardo Da Vinci was laid to rest in a churchyard on the castle grounds of Amboise, the fortress/estate of Francis the first, the reigning king of France. In the following centuries, his burial ground was desecrated by a succession of wars, notably the Huguenot uprising and the French Revolution, and the inevitable grave robbers. His remains became commingled and scattered.
Several attempts were made by an eclectic group of Da Vinciophiles to gather what might plausibly be Leonardo's bones. Some, including a relatively large skull, were anointed and were transferred to the newly reconstructed and rechristened Chapel of Saint-Hubert, to this day Leonardo's shrine. On the floor of the chapel is a tableau with an inscription stating that herein might possibly repose the remains of Leonardo Da Vinci. But no one could really tell — until now.
Written as a historical fiction, the novel unravels the mystery behind the controversial skull of one of the greatest geniuses in the intellectually congested Renaissance Period. Drawing from his background and knowledge as a forensic anthropologist, George presents a story that will rouse both Da Vinci scholars and history enthusiasts.
Readers may visit https://www.amazon.com/LEONARDOS-SKULL-Robert-George/dp/1984533002 to purchase a copy and know more about the book.
"Leonardo's Skull"
By Robert George
Hardcover | 6 x 9in | 96 pages | ISBN 9781984532992
Softcover | 6 x 9in | 96 pages | ISBN 9781984533005
E-Book | 96 pages | ISBN 9781984533012
Available at Amazon and Barnes & Noble
About the Author
Robert George received his master's degree in gross anatomy from the Medical College of Virginia and his doctorate in physical anthropology from the University of Washington. After completing his dissertation on the origin of primates from Paleocene insectivores, he began a peripatetic career teaching anatomy and kindred subjects in several medical schools, including Brown University, Harvard-MIT Division of Health Sciences and Technology, Kuwait University, University of Chicago, University of South Carolina and Central Caribbean University in Puerto Rico. He recently retired from Florida International University in Miami where he taught medical and orthopedic anatomy. George's research interests have gradually shifted from comparative primate anatomy to forensic anthropology with a specialty in forensic facial approximation, a key subject of his debut book, "Leonardo's Skull." When not teaching, consulting or approximating, he enjoys writing fiction, portraiture and caricaturing.
Your Web-Optimized Edition Press Release service helps to increase your press release's visibility on the internet. Keywords within your press release will be linked to high-profile websites and/or to websites where your book can be purchased.