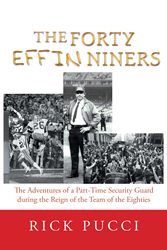 CHICAGO (PRWEB) December 03, 2018
As a part-time security guard for the San Francisco 49ers throughout the 1980s, Rick Pucci had a front row seat as he witnessed one of the worst sports teams rise to greatness. "The Forty Effin Niners: The Adventures of a Part-Time Security Guard during the Reign of the Team of the Eighties" is an entertaining and unique sports memoir that includes personal anecdotes about Joe Montana, Jerry Rice, Bill Walsh and other celebrities.
"My fiancé left me because I kept getting cold feet and pushing our marriage back," said Pucci. This broke my heart and on Sundays (couple and family days in San Francisco), I decided to take on a low level, part-time security job with one of the worst franchises in sports history, which fit my mood perfectly."
Throughout this period, Pucci kept notes from witnessing events from the era. He would run into the locker room and write down some of the greatest moments in sports history right after they happened. Pucci is confident that these writings will be of interest to both sports fans and non-sports fans alike.
"The Forty Effin Niners" is a once-in-a-lifetime story of how the worst football team rose from the ashes to not only lift the spirits of a downtrodden City from its depression but also to cure the broken-heart of the author.
"The Forty Effin Niners: The Adventures of a Part-Time Security Guard during the Reign of the Team of the Eighties"
By Rick Pucci
ISBN: 978-1-9845-4353-0 (softcover); 978-1-9845-4354-7 (hardcover); 978-1-9845-4352-3 (eBook)
Available at the Xlibris Online Bookstore, Amazon and Barnes & Noble
About the author
Rick Pucci is the owner and founder of Park Ridge Financial, Inc., where he provides one on one financial planning for individuals and small businesses. His areas of expertise include investment, retirement and estate planning. After graduating from The Pennsylvania State University, Pucci traveled cross-country with his then-girlfriend and he enrolled in San Jose State University's Graduate Program. He completed extensive literature and composition classes at both his universities and has always had a passion for writing. Pucci spends his time in Chicago and Santa Cruz, CA. Recently widowed from his wife Maureen of 33 years due to biliary cancer, Pucci is donating royalties from the sale of his book to The Cholangiocarcinoma Foundation. To learn more, please visit http://www.rickpucci.com.
General Inquiries:
LAVIDGE – Phoenix
Bryan Beach
480-306-6554
bbeach(at)lavidge(dot)com