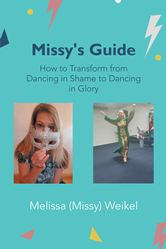 "Many women have experienced so much trauma and may have built up shame or feel they are unworthy," Weikel said, "This guide will address these issues and teach you how to step into a life of joy and freedom."
MARIPOSA, Calif. (PRWEB) January 23, 2023
Trauma created roadblocks for one woman, but by finding God she learned her true purpose and found redemption through the art of dance.
In "Missy's Guide: How to Transform from Dancing in Shame to Dancing in Glory" by Melissa Weikel, readers learn about the author's traumatic upbringing that led her becoming a stripper, and how embracing God along with her love of dance she was able to find redemptions and share her story with others. Weikel has overcome trauma such as sexual abuse, PTSD from losing everything in a fire, and a horrible car accident that stole her dance movement for years. She still lives with disabilities that limit her movement, but she keeps working to push her body to dance.
"Many women have experienced so much trauma and may have built up shame or feel they are unworthy," Weikel said, "This guide will address these issues and teach you how to step into a life of joy and freedom."
Through personal stories from her early life as a stripper and her journey to dance for God's glory, Weikel provides encouragement and advice to women who have a fear of dancing in public. Key themes in the book are healing and spiritual surrender, and the author hopes o help readers learn to change their patterns of behavior to find peace and blessings.
"God's transformation in my life has been an amazing and humbling journey. There is nothing more powerful than dancing with our heavenly father," Weikel said, "Feeling his presence and love as I move across the floor is the ultimate high."
"Missy's Guide"
By Melissa Weikel
ISBN: 9781664267473 (softcover); 9781664267466 (electronic)
Available at WestBow Press, Amazon and Barnes & Noble
About the author
Melissa "Missy" Weikel has been an ordained Minister for over eight years and has been member of "Dancing For Him Ministries" for over five years. She loves to share the good news with anyone she meets and has testified at churches all over the world. She has a bachelor's degree in Applied Behavioral Science from the University of Arizona and is currently obtaining her Master's in Psychology. Weikel is certified in dance movement therapy by the Center of Excellence and provides counseling and dance movement services. She recently started a new ministry called Missy's Faith 4 Hope Services, and her newest book, "Finding the Dad I Never Had," is available HERE. To learn more, please visit [http://www.westbowpress.com/en/bookstore/bookdetails/830680-missys-guide.