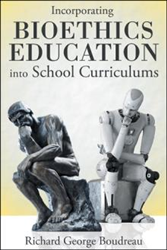 LOS ANGELES (PRWEB) June 21, 2019
Richard George Boudreau believes that there is a pressing need to assess whether educators and administrators would support the introduction of bioethics as an educational content. This viewpoint led him to release a book titled "Incorporating Bioethics Education into School Curriculums" (published by Archway Publishing).
Boudreau's background in health sciences, law, philosophy, psychology, ethics and public policy provided the stimulus to present nationwide data about educator perspectives regarding some of the most compelling and controversial bioethical issues of the present time.
"Incorporating Bioethics Education into School Curriculums" is based on research geared to assess the views of parents, educators and administrators about the purpose, utility and feasibility of the application of bioethics being integrated into school curriculums. For Boudreau, young students have difficulty making sense of the many ethical issues that have appeared with rapidly advancing science and technology. The book's focus is making sense of the complex layered world in the face of controversy, conflict and adversity.
To purchase and to know more about the book, interested parties may visit https://www.archwaypublishing.com/Bookstore/BookDetail.aspx?BookId=SKU-001222876.
"Incorporating Bioethics Education into School Curriculums"
By Richard George Boudreau
Hardcover | 6x9 in | 188 pages | ISBN 9781480876668
Softcover | 6x9 in | 188 pages | ISBN 9781480876682
E-Book | 190 pages | ISBN 9781480876675
Available at Amazon and Barnes & Noble
About the Author
Richard George Boudreau is a proven leader who has enjoyed success as a maxillofacial surgeon, attorney, forensic expert, and bioethicist. He has earned numerous academic credentials, including Bachelor of Science, Master of Arts, Master of Business Administration, Doctor of Dental Surgery, Doctor of Medicine, Juris Doctor, Doctor of Philosophy and Doctor of Psychology degrees, holds several fellowships, and is on the facilities of Loyola Marymount University Bioethics Institute and the U.C.L.A. Department of Oral and Maxillofacial Surgery. He is an active member of the California, Washington D.C. and U.S. Supreme Court Bars. He is a regular bioethics contributor for several newspapers and magazines. Boudreau has over a hundred articles to his credit and contributed to many healthcare textbooks. Boudreau released "Bioethics Perspective of the Feasibility and Implementation of an Existential Psychoanalytic Praxis Addressing End-of-Life Care in the Elderly" in 2018 which has received widespread praise, and available on all major outlets, e.g. Amazon, Barnes & Noble, etc.