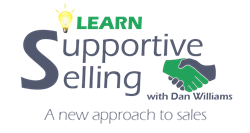 What you say and how you say it has a huge impact on what customers do
Columbia, MD (PRWEB) May 30, 2015
In an era where customers can compare products and gather details instantly online, the decades-old model of a seller whose primary role is to inform and persuade is less relevant than ever. This is particularly true in complex sales involving long time periods and multiple decision makers. To be effective, sellers need to understand what their customers need, but customers tend not to reveal those details unless there's something in it for them. What can sellers do to succeed in this environment?
A new book by Dale Olsen, PhD and Ben Allen-Kingsland lays out a next-generation model called Supportive Selling to help sellers in any field support their customers through the buying process, positioning themselves as valuable, knowledgeable consultants with solutions made for the customers' needs.
"I've been selling since my time at the Johns Hopkins Applied Physics Lab," says Olsen, now President of SIMmersion, a small business spun out of the Applied Physics Lab in 2002. "It always struck me how the right kind of approach would make customers more open. This book came out of my desire to figure out the common threads between successful sales and how they related to influencing in other fields."
One discipline that features heavily in the book is Motivational Interviewing, an exhaustively researched communication style that can help undecided or contrary individuals become more motivated to consider change. In selling, most customers start out undecided or somewhat resistant to making a purchase. Understanding the typical customer's mental state and the process they have to go through to become motivated to consider a purchase is key to the Supportive Selling model.
"Research shows that what you say and how you say it has a huge impact on what customers do," says co-author Allen-Kingsland. "If a customer raises a concern, the conventional approach sees that as an objection to be handled. A more Motivational Interviewing approach would involve reflecting what the customer says, to help them feel heard and understand their point of view better."
Reflections are one of the easy-to-use Tools for Selling described in the book, to give sellers ideas for the best approach in each moment of the call. The new model also breaks a sales call into Four Steps to give sellers a flexible structure to aim for. Finally, four overarching Guidelines help sellers get into the mindset that will help them build a valuable, consultative relationship with their customers.
In addition to the next-generation sales model in the Supportive Selling book, Dr. Olsen's team at SIMmersion applied the concepts to the state-of-the-art training simulation Supportive Selling with Dan Williams. In this online system, users get to put their sales skills into practice in highly realistic virtual sales calls with Dan Williams, a simulated buyer. Dan's needs and personality vary from play to play, so users build their experience with repeat practice. An on-screen coach maximizes the impact of each teachable moment, and game-like elements like simulated commissions, achievements and a global leaderboard motivate users to keep playing.
"Reading about a new sales model is one thing," says Olsen. "Being able to practice it in a stress-free virtual environment, without any real sales on the line, is a capability we're proud to be able to offer."
For readers interested in a next-generation sales model, Supportive Selling is available in paperback and ebook on Amazon and other retailers. For a free test drive of the simulation Supportive Selling with Dan Williams, visitors can go to http://www.supportiveselling.com.
About SIMmersion
SIMmersion's mission is to train communication skills faster and more effectively by combining the world's most realistic simulated experiences with highly interactive training content and extensive user feedback. For more information, contact SIMmersion online or at 443-283-2555.