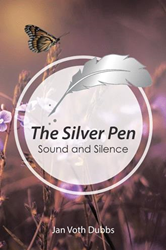 LOVELAND, Colo. (PRWEB) July 01, 2019
Jan Voth Dubbs has been writing poems for many years. She loved playing with words as it often made her feel better by just writing them down. Drawing inspiration from her personal experiences and her faith in Jesus Christ, she takes the readers into a poetic journey that explores the beauty of language.
Dubbs' book titled "The Silver Pen: Sound and Silence" (published by AuthorHouse) offers poetic verses which show a powerful connection to emotion and new ways of looking at loss. There is often an underlying theme of a relationship with Jesus Christ.
Readers may visit https://www.authorhouse.com/Bookstore/BookDetail.aspx?BookId=SKU-001186137 to purchase and to know more about the book.
According to Dubbs, there is more likely a theme for each poem, however, a number of them focus on despair, lack of peace and hope with healing described through powerful combination of words that become like a healing liquid poured over a bleeding heart.
Pouring her heart and soul into words, Dubbs hopes that the collection of poems will make readers nod and smile at every experience they can come across and relate with. "Everyone has or had times of experiencing many kinds of different emotions and will be able to relate and most likely feel the joy of different ways of receiving relief and joy," she concludes.
"The Silver Pen: Sound and Silence"
By Jan Voth Dubbs
Hardcover | 6x9 in | 108 pages | ISBN 9781546251286
Softcover | 6x9 in | 108 pages | ISBN 9781546251309
E-Book | 108 pages | ISBN 9781546251293
Available at Amazon and Barnes & Noble
About the Author
Retirement in Colorado for Jan Voth Dubbs has become a blessing of a quieter life with family and solitude, away from a very busy 33 years in a large medical laboratory in New Mexico. She transitioned first through a number of years as a licensed mental health counselor. This easily led to a "listening prayer" approach where the Holy Spirit is in charge. Dubbs is now enjoying life with her family and friends in Loveland. Writing has been a part of her life for many years.