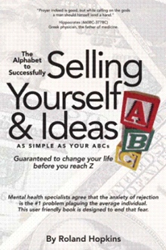 PLYMOUTH, Mass. (PRWEB) November 06, 2018
Roland Hopkins wanted people to learn to create an atmosphere in which "the other person will be comfortable doing what you want them to do, and to rid yourself of the anxiety of being rejected." This objective prompted him to write "The Alphabet to Successfully Selling Yourself & Ideas" (published by AuthorHouse in January 2008).
Set for a new marketing campaign, the book is built around what Hopkins thought was the easiest thing he could think of – the alphabet. It includes 26 very short chapters, and a guarantee that very quickly, readers will take the last chapter test, easily pass it and succeed 100 percent for the rest of their life.
"The book will teach readers how they can be a star in their own world, big or small, selling products and services, or just selling oneself and ideas. It will teach them how to be their own screenwriter and star in their own life movie or play – with a Hollywood or Broadway happy ending," Hopkins says.
"The Alphabet of Successfully Selling Yourself & Ideas" reveals the facts readers can easily adopt and follow whether by being a success as a husband, father, wife, mother, CEO, janitor, schoolteacher, senator, salesperson or any other endeavor they choose to undertake. For more details about the book, please visit https://www.amazon.com/Alphabet-Successfully-Selling-Yourself-Ideas/dp/1434348822.
"The Alphabet to Successfully Selling Yourself & Ideas"
By Roland Hopkins
Softcover | 6 x 9in | 192 pages | ISBN 9781434348821
E-Book | 1 pages | ISBN 9781467862035
Available at Amazon and Barnes & Noble
About the Author
Roland Hopkins was born in 1936 in Boston, spent his youth, education and business career in good-old handshake, Yankee New England. His first paying job was as a soda jerk on old Cape Cod, he then worked as an archery instructor in Maine. He attended college in Connecticut, spent six years as a disc jockey in Connecticut and Maine, married a girl from Vermont and then founded a small business newspaper in Boston. Early in his career, he discovered two things that rules his life. One, he decided that he would never become a salesperson. Two, when he did become a salesperson, a respected and successful business friend informed him that he could never become successful in business following the Golden Rule. Apparently, it was a challenge that Hopkins accepted because his small, 12-page weekly business newspaper, started on a shoestring, became the largest commercial real estate newspaper in the country by following the very philosophy that he was advised would never work. Hopkins married Denise Boudrot, a horse race jockey who passed away on May 19, 2010. She was the first woman to win a riding title at a major racetrack and ultimately won over a thousand races. He has four children who are all successful in varied fields. He lives in White Cliffs, an oceanside community very close to where the Mayflower Pilgrims landed in 1620 in Plymouth.