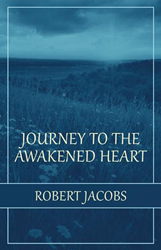 GAINESVILLE, Fla. (PRWEB) February 18, 2019
Robert Jacobs is now 70. Looking back over his unique life, he wanted to tell the story of his spiritual search. He hoped that aspiring seekers could see that it is indeed possible to have a profound experience of the divine within. The result is his book "Journey to the Awakened Heart" (published by Balboa Press).
The book shares how Jacobs' search took him through Europe, Africa and Asia in the 1970s until he encountered an Indian spiritual master. It was his teacher Guruji who was able to offer him the inner knowledge that he sought. After living a monastic life in meditation ashrams for over 15 years, he recounts how his desire to serve surprisingly evolved into a worldly life as a husband, father and immigration lawyer. It was in this context that his innate spirituality was to fully bloom.
When asked about the value of spiritual practices, Jacobs responded, "Without spiritual wisdom, none of the problems facing society today — preserving our earth, caring for the poor, ensuring justice for the oppressed, overcoming political and tribal hatreds — can be accomplished. People need to experience the inherent unity of all beings, that God lies within us all."
"Journey to the Awakened Heart" aims to make readers realize that "we are all on a spiritual path to experience the divine within. It is the destiny of all human beings to have this experience." For more details about the book, please visit https://www.amazon.com/Journey-Awakened-Heart-Robert-Jacobs/dp/1982215569.
"Journey to the Awakened Heart"
By Robert Jacobs
Hardcover | 5.5 x 8.5in | 202 pages | ISBN 9781982215583
Softcover | 5.5 x 8.5in | 202 pages | ISBN 9781982215569
E-Book | 202 pages | ISBN 9781982215576
Available at Amazon and Barnes & Noble
About the Author
Robert Jacobs is an immigration lawyer who earned his Juris Doctor degree from the University of Florida Law School in 1996. He has enjoyed a life of adventures in India, Morocco, Paris, Brazil and elsewhere. Jacobs spent 15 years studying meditation and yoga under two renowned spiritual teachers from India before finding his calling as a husband, father and immigration lawyer. Originally from Pennsylvania, he currently lives in Gainesville, Florida, with his wife of more than 24 years.