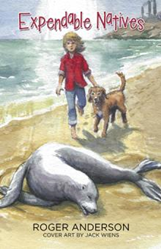 MEDFORD, Ore. (PRWEB) October 01, 2019
"Pollution must be taken seriously, as it has a negative effect on natural elements that are an absolute need for life to exist on earth, such as water and air. Indeed, without it, or if they were present in different quantities, animals — including humans — and plants could not survive," states an article at http://www.conserve-energy-future.com. This same issue is the theme behind the book, "Expendable Natives" (published by Trafford Publishing) written by Roger Anderson.
California sea lions are having seizures on the central coast of California. An 11-year-old girl, Lissa Seawright, and her dog, Keats, find one of the first victims washed up on Pacific City beach. Lissa is spending her summer there with her mother, Lorraine. They wait on the beach for hours along with others, including local newspaper reporter Logan Price, for help to arrive. Led by big Jack Kodolsky, the rescuers drive down a couple hours from the Pinniped Rescue Center in Santa Cruz. The veterinarian at the center, feisty Lyra Calhoun, waits at the center to examine the animal. The spectators witness the first rescue, which involves Jack and his team loading 250 pounds of quivering flesh for transfer.
The incidence of sea lions under seizure soon becomes an epidemic, but the frustrated vet cannot isolate the cause. Lyra, Jack, Lissa and Logan begin an investigation to locate the toxic culprit. Is it possible that something dangerous is pooling under the sand dunes near the local Cenco Oil Refinery, where Lissa's mother is the head of public relations? The team's search will eventually take them from those sand dunes to a deadly confrontation on the water with a psychopathic killer.
"Considering the current state of the environment, including climate change, time is running out for many species of expendable natives. There is a sense of urgency about the state of the environment. People need to realize its steady degradation is having a potentially devastating effect on life, our lives. This book is set in 2000. Things have become much worse since then," Anderson says. For more details about the book, please visit https://www.amazon.com/Expendable-Natives-Roger-Anderson/dp/1490796053.
"Expendable Natives"
By Roger Anderson
Hardcover | 5.5 x 8.5in | 534 pages | ISBN 9781490796062
Softcover | 5.5 x 8.5in | 534 pages | ISBN 9781490796055
E-Book | 534 pages | ISBN 9781490796093
Available at Amazon and Barnes & Noble
About the Author
Roger Anderson, his wife Wendy and their dog Binx, reside in the Rogue River Valley in Southwestern Oregon. It is a beautiful area blessed with rivers, forests, pear orchards, lakes, vineyards and some mountains. Crater Lake National Park, home to the country's deepest lake, is an hour drive to the northeast. Driving an hour and a half west will bring one to pristine beaches, cliffs and giant rock formations carved by the blue-green waters of the endless Pacific Ocean. The climate is Mediterranean, the people are friendly, and there is no sales tax.