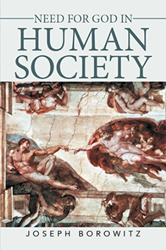 WEST LAFAYETTE, Ind. (PRWEB) November 06, 2019
Joseph Borowitz believes that God is essential for the society to function well. For Borowitz, the high divorce rates, abortion and same-sex marriage show great disrespect for God indicating that human societies are not well related to their creator. With such concern, he pens, "Need for God in Human Society" (published by Xlibris in May 2017), a book that traces God's influence on human societies from the time of Abraham down to the present day. It also traces the influence of governments on human societies. It also emphasizes the importance of deep personal experiences in human lives.
Set for a new marketing campaign, "Need for God in Human Society" shows evidence of God in human development. It proposes that small charismatic prayer groups will strengthen societies and guarantee a good future. The book also discusses that medical personnel with a strong Christian faith can enhance the effectiveness of treatment.
"We all have dealt with legal and religious authorities in our societies," says Borowitz on the book's social relevance. "[The book] gives [readers] a historical perspective and an awareness of where they fit in personally in our culture."
Highlighting the importance of a personal relationship with God, Borowitz hopes that with the book, readers will gain a peace of mind and a deep faith in a living and loving God. For more details about the book, please visit https://www.amazon.com/Need-Human-Society-Joseph-Borowitz/dp/1642541117.
An excerpt from the book reads:
Christianity is dependent on how well we fellowship with other people. Small prayer groups provide a means by which we get to know each other and develop loving relationships. Great benefits come when we belong to a healthy small prayer group. Only then can we be ourselves, achieve true freedom, and attain salvation. In the absence of a loving community, our institutional church becomes a formalistic travesty. In summary, good small prayer groups are vital for the ultimate meaning of human life and Christian faith.
"Need for God in Human Society"
By Joseph Borowitz
Hardcover | 6x9 in | 114 pages | ISBN 9781543422283
Softcover | 6x9 in | 114 pages | ISBN 9781543422276
E-Book | 114 pages | ISBN 9781543422269
Available at Amazon and Barnes & Noble
About the Author
Joseph Borowitz attended parochial schools in Columbus, Ohio, and received a bachelor's degree from Ohio State and a doctorate from the medical school at Northwestern in Chicago. He is currently professor emeritus at the Purdue College of Pharmacy, West Lafayette, Indiana.