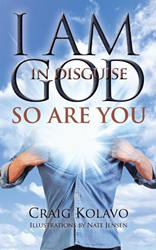 HIGHLANDS, N.C. (PRWEB) June 11, 2019
Craig Kolavo believes "we all share the same collective purpose as human beings, which is to Discover the divine within, Surrender to this power, and to Inspire others on this path." Kolavo's intentions for writing this book are to share a positive message with the world and to raise money for some great causes. One hundred percent of eBook proceeds will benefit water.org. "I Am God in Disguise: So Are You" (published by Balboa Press) is a book that simplifies and demystifies the spiritual path. For more details about the book, please visit http://www.amazon.com/author/craigkolavo.
In the book, Kolavo offers a fresh, and at times, humorous approach to explaining a subject that is often considered very complex. He describes the "Game of Life" as an exciting adventure. His casual style helps the reader feel that this path is achievable by all. Kolavo says "If I can do it, anyone can."
"These turbulent times are exactly what was needed to drive change in the world. The Universe doesn't make mistakes. Everything happens for a reason. We've been sleepwalking for too long. It was time for a wake-up call. The collective pain being felt by many is a blessing in disguise. In a way, pain is our friend. It forces us to re-examine our beliefs and make adjustments. This can be true for individuals and societies. A positive shift is now underway! Like-minded people are organizing to fight against hate and fear mongering, which has become commonplace. Unfortunately, it's often darkest before the dawn," Kolavo says.
"This book is a call to action. A call to awaken the sleeping giant that lies dormant within all of us. The time is now," Kolavo concludes.
"I Am God in Disguise: So Are You"
By Craig Kolavo
Softcover | 5 x 8in | 158 pages | ISBN 9781982223144
Softcover | 4 x 6in | 224 pages | ISBN 9781982223755
E-Book | 158 pages | ISBN 9781982223151
Available at Amazon and Barnes & Noble
About the Author
Craig and his wife Amy live in Highlands, North Carolina. To learn more about the author and this book, visit the author's website at http://www.awesomlife.com.