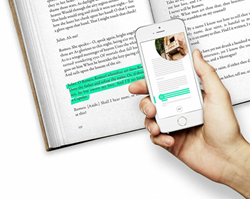 Booke is helping to bring print into the 21st Century.
Charlotte, NC (PRWEB) June 24, 2014
Launching today on Indiegogo is the Booke app, a new reading companion that allows readers, publishers and content creators to get more out of printed books, magazines, academic texts and more. With a $15,000 goal, the creators behind Booke are aiming to move forward with developing this must-have reading app, creating the exclusive annotated version of George R.R. Martin's "Rogues" and helping bring printed content back to life.
The Booke app is not an eReader for smartphones or tablets. In order for users to start reading with Booke, they will need to download the app on their iOS or Android device and also own the physical printed copy of the material. Then, users can unlock exclusive augmented content, share favorite (or even contentious) passages, take notes and more to create a better reading experience, making the Booke app perfect for all readers.
Book lovers are just one group of readers who will appreciate the Booke app because they can watch their favorite scene unfold right on their device as they read with a Booke exclusive video. Also, users can view notes, comments and suggestions made from previous readers to help them get the most from the book. Students are the second group of readers Booke is perfect for because the app allows them to make notes without ruining textbooks by scribbling in margins. They can also store facts, quotes and other information right on their smartphone or tablet to easily access later. Cooks will also enjoy using the Booke app because they can voice search their favorite recipes while at the grocery store, making it easy to view all the necessary ingredients.
Publishers and content creators will also benefit from using the Booke platform. Since eBooks only account for 23% of the books currently being offered, Booke gives authors and publishers the opportunity to bring all of their printed books to the eGeneration without the hassle of formalizing an e-version of the work. By simply submitting their content to Booke, publishers and authors can gain invaluable insight and analytics on their readers. It'll help them gauge opinion, analyze future markets, and be more in touch with their audiences. Whether they are interested in identifying the most popular sections of a book, enhancing a reader's experience or making their printed work go viral, the Booke platform helps them accomplish their goals.
"We love all the features of using an eReader, but miss the smell, feel and actions of reading physical, printed books," says Booke co-founder Grazyna Szczepaniak. "So we decided to combine the two worlds with the Booke app. By giving today's readers the ability to search, bookmark, annotate and share printed content right from their device, Booke is helping to bring print into the 21st Century!"
The Booke team is seeking to raise $15,000 on Indiegogo to create a richer reading experience for all. The funds will go towards the special edition of "Rogues" by George R.R. Martin (Editor), Gardner Dozois (Editor), Gillian Flynn (Contributor), Neil Gaiman (Contributor), Patrick Rothfuss (Contributor) for the Booke platform. The Booke version of "Rogues" will be enriched with unique pictures by Dagmara Matuszak, Ted Nasmith, Marc Fishman and Marc Simonetti. With a variety of contribution options, there is a Booke perk for every reader.
To help fund the Booke app and special edition of "Rouges," visit http://bit.ly/BookeIndie. Be sure to connect with Booke on Facebook and Twitter @readwithbooke to stay up to date with the crowdfunding campaign, and learn about new rewards, contests and more.
About Booke
After constantly scribbling notes in margins and being unable to stop reading, Booke founders Grazyna Szczepaniak and Jarek Bogulak thought there had to be a better way of keeping track of important pieces of information — the concept of Booke was born. The Booke iOS app brings all the functionality of eBooks to your favorite printed works plus exclusive content that makes reading better than ever. To learn more, visit http://www.booke.co.