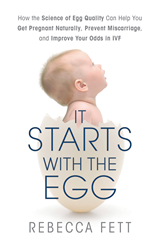 "Well-researched, accessibly written and with easy-to-follow take-home messages and action plans. I would recommend this to any woman who is trying to conceive."- Dr. Claire Deakin, Faculty of Population Health Sciences, University College London.
New York (PRWEB) March 28, 2014
The book, titled It Starts with the Egg: How the Science of Egg Quality Can Help You Get Pregnant Naturally, Prevent Miscarriage, and Improve Your Odds in IVF explains that poor egg quality is the leading cause of failed IVF cycles, age related infertility, and early miscarriage. More than 150,000 IVF cycles are performed in the United States each year but less than a quarter result in a live birth, according to the CDC.
Drawing on nearly 500 scientific studies, author Rebecca Fett presents a comprehensive analysis of the latest research concerning egg quality and fertility, including new research by Dr. Elizabeth Ruder to be published in the journal Fertility and Sterility suggesting that antioxidant supplements may help women with unexplained infertility conceive sooner. "We found evidence that increased intake of certain antioxidants was associated with a shorter time to pregnancy," said the study authors.
The book also emphasizes the need to minimize exposure to hormone- disrupting environmental toxins such as Bisphenol A (BPA). One recent study described in the book and published by Harvard researchers in the Journal of Human Reproduction found that women with higher BPA levels before IVF have fewer eggs retrieved, a lower fertilization rate and ultimately produce fewer embryos. BPA levels have also been linked to the hormonal changes thought to contribute to infertility in PCOS (polycystic ovary syndrome).
The book comes several months after the American College of Obstetricians and Gynecologists and the American Society for Reproductive Medicine issued a joint committee option stating that "toxic chemicals in the environment harm our ability to reproduce, negatively affect pregnancies, and are associated with numerous other long-term health problems."
Author Rebecca Fett explains that "when I delved into the scientific research I was shocked to find how much has been discovered about the influences of lifestyle factors on egg quality and fertility. There is a huge gap between scientific knowledge and everyday clinical practice. Many women attending IVF clinics are told there is nothing they can do to improve egg quality, which is simply not true. All women trying to become pregnant deserve to be fully informed."
"Nutrition is one subject where current fertility advice is lacking," says Fett. "Most people are unaware of the dramatic influence of diet on IVF success rates." The book describes research published in the journal Fertility and Sterility finding that women following a Mediterranean diet before their IVF cycle had a 40% higher chance of becoming pregnant. In another study, Danish researchers found that women with a history of higher blood sugar levels were only half as likely to get pregnant over six months compared to women with lower levels. "Cutting back on sugar and leaning towards a Mediterranean diet could be incredibly helpful for women struggling with infertility."
The book has been described as a "game-changer"

"Rebecca Fett's stellar constellation of perspective, experience, knowledge and scientific background may well revolutionize our current global conversation, understanding and practices related to fertility…. It is hard to overestimate the impact that this book may have on the lives of many." Dr. Claudia Welch, author of Balance Your Hormones, Balance Your Life: Achieving Optimal Health and Wellness through Ayurveda, Chinese Medicine, and Western Science.
"This timely synthesis of scientific literature is essential reading for both women and men wanting practical, evidence-based recommendations to enhance their fertility." Dr. Loretta McKinnon, Epidemiologist, Princess Alexandra Hospital.
"This is a very useful resource: well-researched, accessibly written and with easy-to-follow take-home messages and action plans. I would recommend this to any woman who is trying to conceive." Dr. Claire Deakin, Faculty of Population Health Sciences, University College London.
"It Starts with the Egg presents a reasoned and balanced review of the latest science linking environmental chemicals to reduced fertility and other health problems. Readers will find sound advice for how to avoid chemicals of concern, providing a useful guide for couples that want to improve their chances of a healthy pregnancy." Dr. Laura Vandenberg, University of Massachusetts, Amherst, School of Public Health.
ABOUT THE AUTHOR:
Rebecca Fett has a degree in molecular biotechnology and biochemistry, and experience performing laboratory research in the field of genetics. She is currently a patent litigation attorney at a large law firm in New York, where she specializes in analyzing scientific and clinical evidence for biotechnology companies.
Review copies and interviews available upon request.
IT STARTS WITH THE EGG:
How the Science of Egg Quality Can Help You Get Pregnant Naturally, Prevent Miscarriage, and Improve Your Odds in IVF.
By Rebecca Fett
Franklin Fox Publishing, New York.
March 25, 2014. $16.95. £10.95. 305 pages. ISBN: 978-0991126903
http://www.itstartswiththeegg.com
press(at)itstartswiththeegg(dot)com