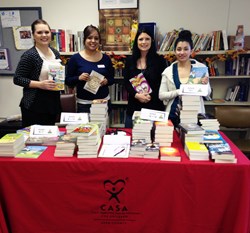 Thank you for including CASA of Kern County on your mission to encourage literacy while instilling a sense of value to all children who receive a book of their own. - Janet Shaw, Program Manager, CASA Kern County
Santa Barbara, California (PRWEB) November 12, 2013
The Justice Project is excited to announce its second A Book of My Own initiative. In particular, The Justice Project is utilizing its A Book of My Own project to supply books to over 300 underprivileged children living within the Kern County region. A Book of My Own© operates on the simple concept that by giving elementary age children a book of their own, each child will be reminded that they matter.
CASA (The Court Appointed Special Advocates) of Kern County Program Manager Janet Shaw shared her thoughts on the initiative, "Thank you for including CASA of Kern County on your mission to encourage literacy while instilling a sense of value to all children who receive a book of their own. We never know the impact of giving without expecting anything in return. I can tell you that many of our CASA kids that have graduated from High School and/or attend college have one thing in common they love to read. Many have said that reading got them through some pretty tough times."
CASA of Kern County speaks for abused and neglected children in the juvenile dependency process. Through the use of highly trained volunteers, the CASA program seeks to provide every child who needs an advocate with a voice in the court process. As the holiday season draws near, The Justice Project expedited this initiative to ensure that CASA of Kern Country will be distributing the books to children throughout their program in time for Thanksgiving.
"The Justice Project is deeply honored to partner with CASA of Kern County for this second installment of a Book of My Own. This is our way of reminding children that they matter, and as Thanksgiving approaches that we are thankful for each of them in every way, every day. For any of us to do less or care less for a child who feels forgotten, abused, or abandoned is a violence of social justice," stated Noah benShea, Executive Director of The Justice Project.
This second installment of A Book of My Own is the latest Just Cause program, which furthers the goal of The Justice Project organization: to engage communities in discussions about justice in the areas of economic, educational, environmental and social justice.
Previous Just Cause programs include: The Prevention of Justice (a partnership with the Sansum Diabetes Institute offering a fresh voice in the conversation on preventable medicine), What Justice Means to Me (a video series documenting personal reflections on defining "justice"), The Justice Project Writing Competition (students from all walks offering their ideas on how to create a more just world) and A Book of My Own's first installment with CASA of Santa Barbara County.
About THE JUSTICE PROJECT
THE JUSTICE PROJECT is an interactive platform that initiates dialogue and broadcasts calls to action by lending an ear to, and giving a voice for, just causes. Funding for THE JUSTICE PROJECT is graciously provided by Sara Miller McCune & SAGE. To learn more, or to schedule an interview with Executive Director Noah benShea, please visit The Justice Project website http://ajustdifference.org, or engage socially on Facebook.