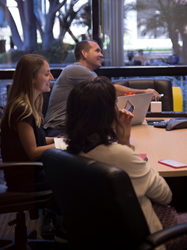 We've changed the way that institutions buy large quantities of books — and we've done it by building a great company culture.
Irvine, California (PRWEB) July 27, 2017
BookPal is honored as the 28th best place to work in Orange County this year by the Orange County Business Journal and Best Companies Group. This county-wide program identifies, recognizes, and honors the best places of employment in Orange County, California that benefit the county's economy, its workforce, and businesses.
"As we've added a number of new staff members over the last year, it's exciting to see that our employees enjoy working for the company as much as I've enjoyed building it," commented Tony DiCostanzo, the president of BookPal.
The company offers many traditional benefits to its employees, such as health and dental insurance, 401k, paid vacation, as well as holiday and sick leave. In addition, BookPal goes the extra mile by offering employees a phantom share plan, flexible schedules, company-wide volunteer events, bonus vacation days and financial rewards for meeting goals, extended vacations using unpaid leave, and access to plenty of book resources — to name a few.
"Our employees are our best asset. This is why we aim to create a work environment that people are excited to come back to every day, an environment where people are happy, energized, and motivated," said BookPal's Chief of Staff, Michelle Drucker.
Recognized for its innovation and focus on new channels of distribution by Publishers Weekly, BookPal has been changing the way organizations in every industry buy books in bulk for over a decade. Its staff of 15 employees delivers more than half a million books and custom journals to businesses, schools, and organizations in all 50 states every year.
"BookPal has never been your traditional book seller. We don't just sell books, we deliver empowering experiences," explained Drucker. "We've changed the way that institutions buy large quantities of books — and we've done it by building a great company culture."
The ranking of the winning organizations was released in a special section of the Orange County Business Journal's July 24th issue. To qualify for placement, organizations in the county had to satisfy specific eligibility requirements to be considered and enter a two-part process to determine Best Places to Work in Orange County.
The first part of the process, worth 25 percent of the total evaluation, consisted of evaluating each employer's workplace demographics, policies, and practices. The other 75 percent of the evaluation consisted of an employee survey that measured employee experience and sentiment. Best Companies Group managed the overall registration and survey process for Orange County and analyzed the data, using their expertise to determine the final rankings that appeared in the July 24th issue.
BookPal's most recent full-time hire, Nina Calabretta, joined the team as a client experience associate in March. "BookPal is the first company I've been a part of in which I truly get an impression of my leadership team's commitment to helping me recognize and maximize my unique talents. I've never felt so valued as an individual in the workplace. I love contributing to monthly brainstorming sessions, and knowing that I get to help shape both company culture and business practices every day is so empowering," she shared. "As a recent college graduate, I can't imagine a better environment for me to launch my professional career."
Learn more about BookPal's services and culture by visiting http://www.book-pal.com. For more information on the Best Places to Work in Orange County program, visit http://www.BestPlacestoWorkOC.com or contact Jackie Miller at 877-455-2159.
-----
ABOUT BOOKPAL, LLC: Based in Irvine, Calif., BookPal makes book purchasing simple and affordable for organizations across the United States. Named a "Company to Watch" by Publishers Weekly in 2010, BookPal has quickly taken its place at the forefront of the bulk-bookselling industry and has been named a fastest-growing private company in the Orange County Business Journal since 2010. BookPal has been recognized on the Inc. 500|5000 list of the fastest-growing privately held U.S. companies, and is a Webby Awards honoree.
EDITOR'S NOTE: Tony DiCostanzo is available for interviews on buying books and journals in bulk for your organization to train, develop, and engage employees. Contact Elizabeth Lee at (866) 522-6657 to schedule.