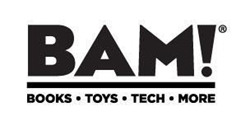 "Whether you're an avid reader or looking for the season's best gifts, Books-A-Million has it." Scott Kappler, Vice President of Marketing for Books-A-Million
Birmingham, AL (PRWEB) November 26, 2014
From 50 percent off door buster deals to stocking stuffers under $10, shoppers can get something for everyone on Black Friday at Books-A-Million.
"We are extremely excited about our lineup this year as we have some fantastic deals for everyone," said Scott Kappler, Vice President of Marketing for Books-A-Million. "Whether you're an avid reader or looking for the season's best gifts, Books-A-Million has it."
Opening at 7 a.m. local time on the day after Thanksgiving, Books-A-Million's customers will be able to get a quick start on their holiday shopping with 50 percent off door buster specials on toys, animal chairs and rockers, along with planners and gift books.
Shoppers always have a reader on their list and Books-A-Million is giving them 30 percent off of best-selling novels like Stephen King's Revival and Gray Mountain by John Grisham.
The kids will love this season's hottest gifts including Lego Star Wars, Webkinz, Melissa & Doug toys and Leapfrog books & explorer games. Shoppers will love that they are all buy one, get one 50 percent off.
Looking to start a new tradition or continue an old one? Books-A-Million's shoppers can do both by celebrating the 50th anniversary of Rudolph the Red-Nosed Reindeer with a plush doll or start something new by bringing home an Elf on the Shelf to cause mischief this year.
A holiday shoppers list isn't complete without stocking stuffers. Books-A-Million gives its customers a large selection of Holiday Music, DVD & Blue Ray movies, Gift Books, and kid's games to choose from. All for under $10.
Books-A-Million's selection of gifts meet every need and make it the perfect one-stop shopping destination for the holidays each and every year. Start shopping now using the Books-A-Million holiday gift guide.
ABOUT BOOKS-A-MILLION
Books-A-Million, Inc. is one of the nation's leading book retailers and sells on the Internet at http://www.booksamillion.com. The Company presently operates 262 stores in 34 states and the District of Columbia.
The Company operates large superstores under the names Books-A-Million (BAM!), Books & Co, 2nd & Charles, and traditional bookstores operating under the names Bookland and Books-A-Million. Also included in the Company's retail operation is Yogurt Mountain Holding, LLC, a retailer and franchisor of self-serve frozen yogurt stores with 44 locations. The Company also develops and manages commercial real estate investments through its subsidiary, Preferred Growth Properties, which presently includes four retail shopping centers.
The common stock of Books-A-Million Inc. is traded on the NASDAQ Global Select Market under the symbol BAMM. For more information, visit the Company's corporate website at http://www.booksamillioninc.com.
Follow Books-A-Million on Twitter (http://twitter.com/booksamillion)