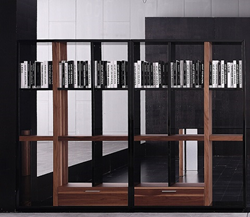 Recessed shelves in general have become a pretty popular option for adding storage, but with a little creativity (and some good measuring), it's possible to stow a decent number of books inside the walls.
(PRWEB) November 25, 2014
HomeThangs.com – the Online Home Improvement Store has made their goal to deliver the right product to the consumer. With that in mind, shopping and home design tips, as well as special product selections are being introduced.
Storing and displaying a large book collection can take up quite a lot of space; traditional bookshelves aren't small, and a large collection can easily mean needing enough bookshelves to take up an entire room. But bookshelves don't have to be floor to ceiling and wall to wall. For those that have a lot of books and not a lot of space to store them in, HomeThangs.com has introduced a guide to six unconventional places to install a bookshelf.
The biggest problem with having full sized, dedicated bookshelves is simply that they take up so much space, disproportional even to the size of the bookshelf. To keep books accessible, the area in front of and around them has to be clear, which means there's no room for other furniture that would make the room more functional. One way to skirt this problem is to build bookshelves that start halfway up the wall, leaving plenty of space underneath for a sofa, dresser, or other piece of furniture. Similarly, you can have a half or one third height bookshelf that serves as an additional piece of furniture on its own – just top it off with comfy cushions to create a cozy seating area around the outside of a room.
Another secret to adding shelf space is to recess bookshelves directly into the walls. HomeThangs.com's new guide has a few unique suggestions for how and where to do this, but essentially any unused wall space can be turned into shelving, either a lot or a little, that won't protrude into the surrounding room – a perfect way to store more books without sacrificing floor space.
Check out the full guide here for more information and to see some gorgeous, unconventional bookshelves.
HomeThangs.com is not only a home improvement superstore, it also provides expert design tips and a comprehensive shopping guide, taking the ideas from professional interior designers, and offering tips to the consumers on how to pick the products to best suit their needs.