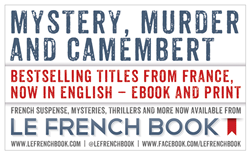 More ways to get good books to readers.
New York, New York (PRWEB) August 29, 2014
Mystery and thriller publisher Le French Book has a goal: introducing readers to new translated mysteries and thrillers. For founder Anne Trager, "We are always looking for new ways to make it easier for readers to get our books." For her, partnering with the direct-to-consumer platform Bookshout! is another step in this direction.
Working with BookShout, Le French Book will be able to easily offer e-book promotions, handle direct sales, and develop projects that involve bulk e-book sales, gift-giving and e-giftcards.
"It is exciting for us to be working with BookShout!, which already powers direct sales for large brands, authors and over 2,000 publishers. The platform is comprehensive and flexible, and gives us more direct contact with our readers, who can read from anywhere."
To celebrate this partnership, Le French Book is running a promotion for 50% off all its available e-books until September 5: click here to get the discounted books.
Jason Illian, BookShout!'s founder and CEO, noted, "We are delighted to be partnering with Le French Book. We appreciate their innovative spirit and forward-thinking vision and we expect to see more and more publishers moving in this direction."
About BookShout!
BookShout! Is a direct-to-consumer ebook platform focussed on creating new sales channels and powering ebook sales from nearly any website. BookShout is the market leader in special and bulk sales, creative promotional campaigns, and digital marketing. BookShout! is accessible on all the latest devices, including iPad, iPhone, Android, Kindle Fire HD, Nook HD/HD+ or the web. For more information, please visit http://bookshout.com/
About Le French Book
Le French Book (http://www.lefrenchbook.com) is a New York-based publisher that brings France's best crime fiction, thrillers, novels, and short stories to new readers across the English-speaking world. Its motto is: If we love it, well translate it.