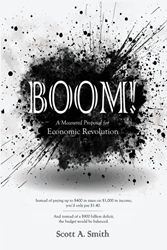 Boom proposes a bold nonpartisan plan to stimulate the economy by eliminating federal income taxes while balancing the budget.
Boulder, Colorado (PRWEB) November 07, 2013
No national income tax and a balanced budget? It doesn't have to be so much pie in the sky. Entrepreneur Scott A. Smith's book, Boom! A Measured Proposal for Economic Revolution presents a revolutionary, nonpartisan plan to make it the American way of life.
The key to Smith's four-part plan is tapping the flow of financial transactions taking place every nanosecond of every day – a whopping $2,510 trillion in regulated annual transactions. All new deposits in banks, wire transfers, and cleared securities would be clipped at a miniscule 0.14% per transaction.
The result? You'd pay just $1.40 for every $1,000 in income, instead of up to $400 today. And at the same time, the federal government could finally balance its budget, receiving $3.6 trillion in income. Smith asserts this would boom the economy as consumers would spend the money they save from not paying taxes, boosting GDP.
"The chronic fight in Congress over raising the debt ceiling shows how desperately we need this solution," said Smith. "The fact that we could balance the budget and do it without having to pay income taxes only makes the solution I'm proposing that much more compelling."
Smith, who believes the political sphere sorely lacks financially savvy and visionary leaders, is using his book to build support for a broad public campaign that would help turn his practical, common-sense approach to public finance into a reality. His book is available through his website http://www.boomtheeconomy.com.
About Scott A. Smith – Smith has spent most of his career founding companies in finance, education, and technology. He was an early pioneer in structured finance, developing the model for conduit financing that allowed commercial real estate mortgages to be originated and securitized without third-party credit enhancement. He also formed a company that helped finance the first phase of Nelson Mandela's Redevelopment Program in South Africa, providing housing for 11,000 families. In addition, he co-founded and was a board member of two charter schools in Colorado and is the co-founder of four notable technology enterprises; C Squared Structured Investment Fund, FinaTech, Massively Parallel Technologies, and Youth Intermedia.