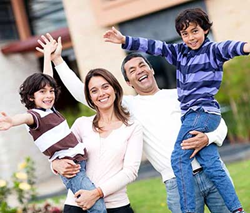 "The ability and willingness of boomerang buyers to re-enter the market over the next year will be a key bellwether of the long-term health and direction of the U.S. housing market going forward for the next decade, and possibly beyond." ~ Forbes
Minneapolis, Minnesota (PRWEB) October 14, 2013
RealtyTrac data reveals that 2.5 million additional homeowners have the opportunity to become "boomerang buyers" due the FHA's loosened guidelines. That 2.5 million tallies the list of homes lost to foreclosure or short sale between September 2010 and August 2012, the very date range that in effect was added by reducing the wait time to reapply for a new home mortgage from 3 years to only 12 months.
"Foreclosures hurt too many responsible homeowners in the past; it is good news to see new opportunities available for them to step back into homeownership as "boomerang buyers". When unfortunate hardships hit, it is appropriate to overlook the unforeseen and undeserved negative impact on credit scores that previously hindered borrowers from buying a home again," says Jenna Thuening, owner of Home Destination.
The August 15th FHA Mortgagee Letter put-to-print an acknowledgement that economic pressures of the recession have been a contributing factor to hardships that forced many responsible homeowners into a Bankruptcy, Short Sale, or Foreclosure within the last 3 years. It establishes new hope for those individuals if they can prove an "Economic Event" that negatively impacted their ability to make mortgage payments.
FHA's Economic Events That Qualify To Re-Apply For An FHA Home Loan Include:
Loss of Precious Income - Applicant needs to provide documentation in one of two manners:

A written Verification of Employment document, complete with date and amount that income lost and if / when it was re-instated
Signed tax return(s) or W-2(s) the prove the minimum 20% loss in Household Income
Loss of Employment - must be documented by providing the lender:
A written Verification of Employment (VOE) which clearly states termination date
In events where the prior employer went out of business, a written termination notice, or other publicly available documentation of the business closure, and a documentation of receipt of unemployment income must be provided.
Forbes highlights the "what if" case should many of these potential boomerang buyers not be interested in becoming homeowners again. In their article FHA Change Adds 2.5 Million Potential Boomerang Buyers Two Years Ahead of Schedule, they state one reason, "...given the bad experience they had with that their last try at home ownership. And there is now an entire multimillion dollar industry, which did not exist before, devoted to renting single family homes to many of these former homeowners — providing the trappings of home ownership without the risk".
September Home foreclosure filings nation wide totaled 2% higher than the previous month and 27% lower than September of 2012, according to the RealtyTrac's recent housing market summary. "That means that year over year improvements show more homeowners are staying in their homes, at the same time that others who lost them may reapply after a much shorter wait time. Together, it should bolster the percentage of individuals who own their own homes," summarizes Thuening.
"The more boomerang home buyers who elect to re-enter the housing market sooner rather than later, the better chance we have of the Minneapolis housing market reaching typical home ownership levels.," adds Thuening.
Sponsored by Rep. Melissa Hortman (DFL-Brooklyn Park) and Sen. Patricia Torres Ray (DFL-Mpls), a new Minnesota law prohibits simultaneous foreclosure during loan modification. Under the new law, the practice of "dual tracking" will be prohibited beginning Oct. 31. Hope is that by keeping homeowners out of entering the Minnesota Foreclosure Timeline, they will never be put in the position of needing to be a boomerang home buyer.
The law applies to owner-occupied residential homes with no more than four family dwellings. "It gives homeowners an opportunity for a loan modification if they are eligible and prohibits foreclosure while they are going through the modification process. If after 14 days of a modified loan being offered, the homeowner has not accepted the offer, and when any appeals have expired, the foreclosure may commence", according the MN House of Representative website.
Home Destination serves the needs of Twin Cities home buyers: whether a first-time home buyer, a boomerang buyer, or a move-up buyer, the commitment is upheld to see each home buyer make well-informed housing decisions they will be pleased with in years to come. Call 612-396-7832.