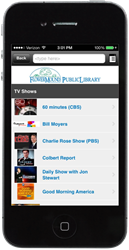 CoverCake serves a real need. It is exactly the kind of service that most libraries will want.
Sunnyvale, CA (PRWEB) July 22, 2014
CoverCake provides library patrons and library staff with an exclusive "books-as-seen-on-TV" reference service that is available in library-branded mobile apps from Boopsie. It helps libraries and librarians answer the common question: "I heard about a great book on Oprah, but forgot to write down the title. Can you help me find it?"
The CoverCake subscription service is engaging and exciting to patrons and helps libraries increase circulation by making popular books easier to find while keeping the library fun and relevant to the interests of its community. CoverCake provides both library patrons and library staff with a comprehensive way to discover books that are featured in the media.
In the York County Libraries app, CoverCake was the third most popular channel. Lora-Lynn Kahler, the director of Technology Integration & Collections at the library, said, "CoverCake serves a real need. It is exactly the kind of service that most libraries will want."
Library app users can browse New York Times Best Sellers lists or they can quickly find a book mentioned on their favorite media program.
For library staff, CoverCake provides another easy-to-access reference tool. When patrons come in to ask about a book they heard about in the media, the library's staff can simply open up the app (or use the desktop app demo page provided for each library) to quickly find the title requested.
Libraries can also use the CoverCake integration to leverage their library collection on social media. For instance, a library staff member hears about a title being reviewed on the Today Show, they can share a link to the item in their catalog on their social media networks to increase their collection's visibility. This leveraging can lead to acquiring new patrons who might not have entered the library otherwise.
Flower Mound Public Library in Texas began providing the CoverCake integration to their patrons in mid-May. On May 31st, more than half of the unique library app users were accessing their CoverCake integration.
"CoverCake is a huge hit among our staff and patrons," says Sue Ridnour, Director of Library Services at Flower Mound Public Library. "The integration makes it so easy to find the books our patrons hear about on TV and the radio."
The St. Charles Public Library app in Illinois saw 72% of unique users who accessed the library app visited the CoverCake integration.
"Our patrons look to us to keep up with the latest technology," says Sarah Slack, Electronic Resources Coordinator at St. Charles Public Library. "CoverCake provides constantly updated lists of books that have been mentioned on TV, and Boopsie integrates this with our catalog so our patrons can not only keep track of what's popular, but easily check these items out."
Scotch Plains Public Library in New Jersey, the most recent library to offer the CoverCake integration to their patrons, had 100% of their app users accessing the CoverCake integration the day after the integration was launched.
"We often have patrons ask us about books they heard about on TV or the radio," says Maribeth Fisher, librarian at Scotch Plains Public Library. "Boopsie's CoverCake service allows them to easily remember those titles. It also enables our staff to quickly look up anything mentioned, so we can better serve our community."
While 64% of adults over 16 receive book recommendations from their family, friends or coworkers, 28% of adult readers turn to online bookstores and other websites for recommendations. Respondents of the survey were not given the option to select a book club or talk show as the reason for selecting a specific title; however, we know that the public looks to popular media icons like Oprah for book recommendations. One of the titles in Oprah's Book Club, A New Earth by Eckhart Tolle, has sold over 3.3 million copies of the Oprah Book Club Edition since its release in January 2005. A New Earth wasn't an anomaly—it is estimated that the 70 titles that are in Oprah's Book Club have sold a total of 55 million copies. Books mentioned on TV are in demand and libraries that can quickly and easily make these titles available to their patrons have found a great way to engage their communities.
On July 9th, Boopsie hosted a free webinar to teach libraries more about the CoverCake, Books-as-Seen-on-TV integration. The webinar was recorded and can be accessed via Boopsie's Customer Tutorials page. Libraries can also read a case study on CoverCake in the York County Libraries app.
About Boopsie
Boopsie is the industry-leading mobile platform-as-a-service (PaaS) provider for over 2,500 library locations worldwide. Boopsie's library-branded mobile apps for libraries are affordable, easy to deploy and maintain, and enable libraries of all types and sizes to quickly acquire new users and increase circulation. Our mobile apps are fully hosted and maintained by our customer service organization. We build native mobile apps for libraries on Android, iOS, Windows Phone 8, Windows Mobile, Windows 8, Kindle Fire, and BlackBerry platforms. Boopsie enables 24/7 remote library access via the user's device of choice. Boopsie also sells subscription services of CoverCake's "Books-as-Seen-on-TV" service and a digital catalog of comics and graphic novels provided by Comics Plus: Library Edition. Visit our website for more information about Boopsie's mobile apps for libraries.