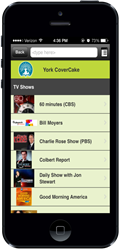 CoverCake is innovative, fun and very popular with library users and students.
Sunnyvale, CA (PRWEB) March 08, 2014
Boopsie, Inc. and CoverCake announced an exclusive partnership in which Boopsie will sell subscriptions worldwide to CoverCake's Media Library Links API, which provides a feed of select author and celebrity appearances on mainstream media shows such as 60 Minutes, The Daily Show, Colbert Report, The View, Oprah and NPR.
"Boopsie is the leading innovator in mobile solutions for libraries," says Jeff Costello, Vice President of Sales and Business Development at CoverCake. "They are at the forefront of keeping libraries relevant to the younger generations of library users who are used to accessing information and content via their mobile devices. Our partnership will be a great way for libraries to drive user adoption and increase their circulation numbers."
As the only platform for libraries that provides mobile apps on Android, iOS, Windows Phone 8, Windows Mobile, Windows 8, Kindle Fire, and BlackBerry devices, Boopsie helps libraries reach a wide spectrum of users in their communities and schools.
The partnership will provide libraries that use library-branded mobile apps from Boopsie seamless access to CoverCake's lists of media-mentioned books. The subscription will be distributed to Boopsie's library-customers who are interested in adding the integration to their library-branded mobile apps. For an example of how the integration works, libraries can visit the York County Libraries app page for an interactive demo.
CoverCake mostly focuses on providing analysis of social media trends for the publishing industry. Through the analysis, publishers are better informed on how to focus their marketing tactics. Their integration, that will be sold by Boopsie, automatically refreshes twice a week, and provides titles of popular books from authors that appear on the listed talk and news shows from TV and radio. In the library apps, the lists will be linked to the library's Integrated Library System (ILS) and will allow patrons to either download the eBook, or place a hold on the physical copy at the library. Along with talk and news shows, there will be access to popular blogs and book clubs as well.
"CoverCake is innovative, fun and very popular with library users and students," says Tony Medrano, CEO of Boopsie. "They offer a service ideally distributed via mobile apps that will help libraries keep up with popular media and book trends, but also help drive increases in circulation by providing access to books that were mentioned in users' favorite TV shows."
Boopsie provides mobile apps to thousands of public and academic libraries that are used by millions of users each year.
Currently, CoverCake's Media Library Links service is available to library users of York County Libraries mobile app. CoverCake is the third most popular integration in YCL Mobile, with nearly 36% of the unique users last year accessing the integration according to Boopsie Analytics™ data. Boopsie will promote CoverCake subscriptions with live webinars to its library-customers, newsletters, detailed case studies and demonstrations of the subscription services to libraries considering Boopsie's mobile platform as a way to reach new library users in their communities in innovative ways. Libraries who are interested in obtaining a CoverCake subscription for their library's mobile app should contact their Boopsie Account Manager.
About CoverCake
CoverCake is a Silicon Valley company bent on delivering intelligent software solutions to help guide publishers and retailers within the book industry. CoverCake's undiluted focus on the book industry and depth of experience with technology is creating turnkey solutions to the unique problems that publishers face in social media. CoverCake's people-focused analytics tools are designed specifically for the book industry and are fully hosted and built to scale. CoverCake was founded by a few Silicon Valley pioneers who are very passionate about bringing innovative change to the book industry. For more information visit the company's website at http://www.covercake.com.
About Boopsie
Boopsie, Inc. was founded in Silicon Valley in 2006. We are the industry-leading mobile platform-as-a-service (PaaS) provider for over 2,500 library locations worldwide. Boopsie's custom-branded native mobile apps for libraries are affordable, easy to deploy and maintain, and enable libraries of all types and sizes to quickly acquire new users and increase circulation. Boopsie's library-branded mobile apps are fully hosted and maintained by our customer service organization. We build native mobile apps for libraries on Android, iOS, Windows Phone 8, Windows Mobile, Windows 8, Kindle Fire, and BlackBerry platforms. Boopsie enables 24/7 remote library access via the user's device of choice. Visit our website for more information about Boopsie's mobile apps for libraries.