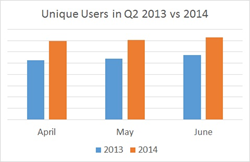 More patrons are using their mobile devices to access library services, and innovative libraries are addressing this need by expanding what they offer in the library-branded apps.
Sunnyvale, CA (PRWEB) July 25, 2014
Boopsie, Inc. released stats for Q2 2014 showing a dramatic increase in the number of app users accessing their library-branded mobile apps. As compared to Q2 2013, the average number of monthly unique users increased by 23.14% across all libraries using Boopsie's platform-as-a-services and the average number of queries made by library users increased by 26.44% over the same time period.
The Boopsie Analytics™ dashboard, which was launched to all Boopsie libraries in May, contains several daily and monthly reports, including Downloads, Unique Users and Queries. Instead of tracking personal information, Boopsie assigns a unique identifier to each app that is downloaded by a user to a mobile device, which is then used to track usage statistics for each library. The Unique Users report tracks how many times a unique identifier "opens" the app, while the Queries report tracks the actions performed (i.e. clicks, keystrokes) by users.
Buckham 2Go!, the mobile app for Buckham Memorial Library in Minnesota, received an 86.8% increase in unique users between Q2 2013 and Q2 2014. The app, which was launched in January 2013, features access to OverDrive eContent and other electronic resources like Mango Languages and Zinio.
The three libraries with the most unique users—Hennepin County Library, The Public Library of Cincinnati & Hamilton County and Multnomah County Library—not only market their apps on their library websites, but they incorporate the services of multiple vendors into their apps such as OverDrive and OneClickdigital.
"More patrons are using their mobile devices to access library services, and innovative libraries are addressing this need by expanding what they offer in their library-branded apps," says Boopsie CEO, Tony Medrano. "In May we measured the cost-per-patron for most mid-sized and large libraries and found it to be less than $0.10 per month per user. Delivering digital services via Boopsie's mobile platform is increasingly cost effective for libraries and local governments with limited budgets."
Another method of tracking app usage is via the Queries report from Boopsie Analytics. By tracking the performed actions of a user (their clicks and keystrokes), the Queries report shows more detail regarding how apps are being used.
Loyola Marymount University's iLMU Library app received an 87% increase in the number of queries made in Q2 2014 as compared to Q2 2013. The app serves the William H. Hannon Library and provides students with 24/7 access to their library on the broad range of mobile devices used by students.
Boopsie Analytics also tracks device usage. While Apple devices still retain the majority of the market share of library apps, iOS increased 15% over the last year; Android increased their market share by 22.54%, while newcomer Windows 8, increased their market share by 74.15%. Blackberry (RIM) lost 234% of users over the same period.
About Boopsie
Boopsie is the industry-leading mobile platform-as-a-service (PaaS) provider for over 2,500 library locations worldwide. Boopsie's library-branded mobile apps for libraries are affordable, easy to deploy and maintain, and enable libraries of all types and sizes to quickly acquire new users and increase circulation. Our mobile apps are fully hosted and maintained by our customer service organization. We build native mobile apps for libraries on Android, iOS, Windows Phone 8, Windows Mobile, Windows 8, and Kindle Fire. Boopsie enables 24/7 remote library access via the user's device of choice. Boopsie also sells subscription services of CoverCake's "Books-as-Seen-on-TV" service and a digital catalog of comics and graphic novels. Visit our website for more information about Boopsie's mobile apps for libraries.