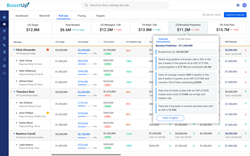 We've built the first unified revenue intelligence and operations platform that allows every person responsible for revenue – from sales, marketing, and customer success – to get real-time insights and collaborate on a single platform. Sharad Verma, co-founder, CEO, BoostUp.ai
SANTA CLARA, Calif. (PRWEB) April 28, 2021
BoostUp.ai, the integrated revenue intelligence and operations company, today announced $6 million in Series A funding, bringing its total capital raised to $14 million and coming only nine months its seed round. Canaan Partners led the new financing, with participation from Emergent Ventures and BGV Ventures. BoostUp.ai has seen remarkable growth, increasing revenue by more than 1,000% in FY 2020, quadrupling annual recurring revenue (ARR) in the last 3 quarters and winning big deals including Udemy, Degreed, Plume and Windstream. The company will use the funds to scale product development, meet increasing market demand and support customer growth.
"BoostUp.ai is a best-in-class forecasting and revenue intelligence platform with the potential to lead this growing category. The self-reporting of data by reps makes it incredibly difficult to accurately assess deal and account status, no matter the industry. So almost always, quarters end with a positive or a negative surprise," said Joydeep Bhattacharya, general partner at Canaan. "As teams move to more remote and hybrid settings, with more communication happening exclusively via digital channels, the ability to use that data to more accurately forecast business performance will become table stakes for all companies."
BoostUp.ai's Series A was oversubscribed by more than 50% as investors saw the company winning several large, six-figure deals in recent months. BoostUp also hit significant customer ROI benchmarks: customers achieved 95% forecast accuracy, reviewed 5x the number of opportunities per manager and increased sales manager and sales rep capacity by over 15%. Consistent wins against incumbents with its all-in-one, Connected Revenue Intelligence & Operations platform, coupled with the increasing market demand for revenue intelligence and sales digital intelligence solutions, contributed to this strong investor interest. Forrester has also recognized BoostUp.ai as the 'Hybrid' revenue intelligence and revenue operations platform in its latest sales tech tide research.
"As a company looking to accelerate our growth even further, we wanted to upgrade our revenue and forecasting infrastructure," said David Groves, VP of Worldwide Field Operations, ContentSquare. "After doing our vendor landscape due diligence, BoostUp.ai was the only complete revenue intelligence platform in a market full of point solutions. We needed one connected revenue intelligence solution that solved all our needs - one built for our entire revenue team to drive forecasting, accuracy in our forecast, and scale deal reviews."
In the era of digital sales, CRMs are no longer the source of truth of what happened and what's expected to happen and not enough in helping sales teams achieve sales efficiency and effectiveness. As revenue work becomes more distributed and digital across pre-sales, sales, and post-sales, BoostUp.ai is the new common digital pane of glass that unifies all digital and CRM data, with forecasting operations. It expands the capacity of first-line sales managers, reps and customer success managers. By integrating traditional revenue operations functions such as forecasting with modern revenue intelligence capabilities such as deal and rep activity intelligence, BoostUp.ai offers the highest ROI in the market today.
BoostUp.ai's AI-driven connected revenue intelligence and operations platform ingests unstructured data from sources like email, phone calls, calendars, meetings, and messaging applications and matches that accurately to accounts and opportunities with snapshotted CRM data. BoostUp then applies natural language parsing, sentiment analysis and proprietary indexing on spoken and written keywords to understand sales win/loss behavior patterns. Then BoostUp turns that data into predictive dashboards and analysis that help sales teams forecast more accurately, get early warning signs of deal or account churn, and increase sales performance.
"In today's era of digital and distributed sales, sales teams have to do more with less. Revenue operations have emerged as the new buying center with a mandate to make their sales staff more productive, drive more predictability and operationalize systems. With this new digital data, revenue operations can finally move away from spreadsheets, drive their custom forecasting processes, achieve predictability and leapfrog to digital revenue management systems away from clunky spreadsheets," said Sharad Verma, co-founder and CEO of BoostUp.ai. "We've built the first unified revenue intelligence and operations platform that allows every person responsible for revenue – from sales, marketing, and customer success – to get real-time insights and collaborate on a single platform."
"With BoostUp.ai, we've been able to break down the barriers between every member of the account team. Our sellers can focus on the right action at the right time to move a deal forward in a quick, concise manner. The result is a higher-performing, more profitable, far more efficient, and actionable sales organization," said Robert Sliker, Sales and Operations Leader, Windstream.
About BoostUp.ai
BoostUp.ai's Connected Revenue Intelligence & Operations platform is designed to help sales teams achieve forecasting accuracy, efficiency, predictability, and growth across the entire sales process. BoostUp.ai accelerates revenue performance with a single connected experience across revenue operations and digital revenue intelligence creating complete transparency, automating processes, and identifying risk and opportunity in the pipeline while improving forecasting rigor and accuracy. This drives team efficiency, leads to a high-performing sales team, and boosts sales execution and revenue. Leading companies including Branch, Iterable, ContentSquare, Windstream, Degreed and Udemy trust BoostUp.ai to drive predictable revenue and growth. For more information, please visit: http://www.boostup.ai and follow us on LinkedIn at https://www.linkedin.com/company/boostup-ai/mycompany/.
Media Contact
Brandon Most
brandon@boostup.ai
913-333-6300