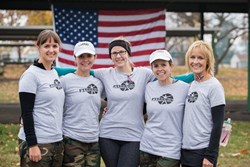 Phoenixville, PA (PRWEB) February 11, 2014
FitBody Personal Training LLC raised $1,200 last fall for the Special Forces Charitable Trust, in honor of soldier Liam Nevins. Staff sergeant Liam Nevins was killed in Afghanistan in September 2013. He was a member of the Special Forces.
FitBody Personal Training LLC owner Carolyn Grashof said around 30 people attended the November 17, 2013 fundraiser and actively participated in a boot-camp style class. The event was hosted at Charlestown Park. The class was broken up into three 20-minute exercise segments, including a yoga-based cool down and stretch segment. Pushups, burpees and planks also challenged the participants. Prizes were also awarded for competing additional challenges during the fundraiser.
Grashof said she plans to host the event annually and planning is already underway for next year. "We would love to have more people in attendance and some additional sponsors as well," she said.
For more information about FitBody Personal Training LLC, visit http://www.fitbodyforeverybody.com or email Carolyn(at)fitbodyforeverybody(dot)com.
Media Contact
Carolyn Grafhof
(610) 209-8047
Carolyn(at)fitbodyforeverybody(dot)com