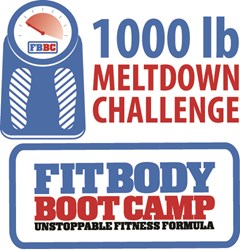 The goal is to inspire and motivate the community to lose weight as part of Fit Body Boot Camp's initiative to expose and engage 20% percent of the world's population in a healthy and active lifestyle by 2020
Vaughan, ON, CAN (PRWEB) August 20, 2013
Owners Ray Ortiz and Craig Ballantyne of the Fit Body Boot Camp in Vaughan are getting ready to launch their 1,000-pound Meltdown Challenge. The goal of this weight loss campaign is to bring the community together and challenge them to lose 1,000 pounds in 28 days by offering discounted boot camp sessions and nutritional support, all while supporting the Heart and Stroke Foundation.
Starting on Monday, September 9, 2013, at its Fit Body Boot Camp location, the 1,000-pound Meltdown Challenge is open to anyone who wants to lose weight, tone up, and get in shape for a great cause. The fee to participate is $20.00 CAD for the 28-day challenge, and all proceeds raised from this campaign will go the local Heart and Stroke Foundation whose mission is to create healthy lives free of heart disease and stroke.
With Vaughan Fit Body Boot Camp, Ortiz looks to make an even bigger impact on his community by partnering up with world-renowned fat loss expert, Craig Ballantyne of Turbulence Training. Together, they hope to change the lives of their local community through health and fitness by launching the 1,000-pound Meltdown Challenge and encouraging locals to come out and give the Vaughan boot camp sessions a try.
"The goal is to inspire and motivate the community to lose weight as part of Fit Body Boot Camp's initiative to expose and engage 20% percent of the world's population in a healthy and active lifestyle by 2020," says Bedros Keuilian, co-founder of the fitness franchise, Fit Body Boot Camp. "Obesity isn't just a personal problem. It's a global epidemic."
Ortiz, a Toronto-based personal trainer with ten years of experience, has trained at least 800 clients throughout his career and helped them to collectively melt away approximately 9,600 lbs. He has also made several media appearances and was featured as a fitness expert on Global's The Morning Show, Global News, Roger's TV and The Score. His training has also been featured in several online and print media such as The Globe and Mail, Post City Magazine, and Spotlight Toronto.
About Vaughan Fit Body Boot Camp
Vaughan Fit Body Boot Camp is a part of the fitness franchise family, Fit Body Boot Camp. Owners Ray Ortiz and Craig Ballantyne are experienced fitness experts committed to helping the Vaughan community lose weight and get in the best shape of their lives. Ballantyne's fat loss workouts have been featured multiple times in Men's Fitness and Maximum Fitness magazines, and have helped thousands of men and women around the world lose fat, gain muscle, and get lean in less than 45 minutes three times per week. To find out more about the fitness franchise, Fit Body Boot Camp, or the Vaughan location, please visit http://www.myfitbodybootcamp.com and http://www.canadafitbodybootcamp.ca/vaughan-fitness-boot-camp/.