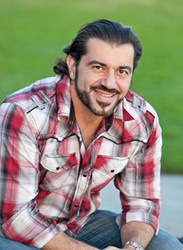 Fitness boot camps have become really popular in the past several years and for a good reason.
Chino Hills, CA (PRWEB) February 11, 2014
Fitness entrepreneur and marketing expert, Bedros Keuilian, exposes his three most client-getting secrets to help more fitness boot camp owners grow their business. Keuilian, who is the president and CEO of the fast growing indoor fitness boot camp franchise Fit Body Boot Camp, has been in the fitness industry for over 15 years and has seen the boot camp trend explode into what it is today. Fitness boot camp businesses are starting to dominate the industry as more personal trainer realize the benefits of opening a group personal training studio versus a one-on-one training facility, which is what inspired Keuilian to reveal these three boot camp marketing secrets.
He says, "The fitness industry is constantly changing and evolving so it's important for personal trainers who want to own a successful fitness business to pay attention to the types of trends that pop up. Fitness boot camps have become really popular in the past several years and for a good reason- they're easier to open due to the fact that you won't need tons of expensive equipment, they're easier to operate because you won't have to hire a ton of trainers, and they're way easier to market and get clients. If you're still running a one-on-one personal training business and not making the money you thought you would, maybe it's time to consider switching over to group training."
Keuilian's marketing secrets, if implemented correctly, will help a personal trainer's boot camp attract lots of new clients in a short amount of time. Here are his top three boot camp marketing secrets for getting clients fast:
1. Trade boot camp sessions for advertising. Usually referred to as the "human billboard" system, this boot camp marketing tactic generates lots of new leads and is very inexpensive. It works by offering 15-20 different people a heavily discounted rate for your training services in exchange for referrals, and also holding them accountable for the amount of referrals each person brings in. Each person should bring in at least two per week. If someone in your "human billboard" program doesn't fulfill their obligations with bringing in referrals, then they're out!
2. Partner up with local businesses. This strategy is often overlooked, but it's one that can bring in reliable leads on a steady basis. Start by approaching businesses that may share the same type of clients you're after like hair or tanning salons, spas, even chiropractors and cosmetic dentists. Offer the owner or manager of these businesses a free week of training, and let them know that you both share the same kind of customers. Ask for some business cards or materials you can use to promote their business, then do it. After they see that you're willing to refer your clients to their business, they'll be a lot more willing to refer you to theirs. The more partnerships you start, the more leads you'll get in return.
3. Offer free Saturday boot camps. This is a fun marketing project that gets the attention of the community and brings in loads of new qualified leads. Find an outdoor park or area that would suit a group personal training class, be sure you have permission to use it, and start your Saturday boot camp campaign. Announce that you'll be doing this to your current clients, friends and family, local businesses that you've partnered up with - you can even contact your local radio and TV stations - to get the word out to the community. Do this for 3-4 weeks at a time and be sure to collect the contact info of the people who show up. Get a hold of them after the boot camp session to see how they liked it and to set up a consultation where you can offer your core program.
About Keuilian Inc.
Keuilian Inc. was founded by fitness business and marketing expert, Bedros Keuilian. He is also the founder of the fitness marketing blog, PTPower.com, and president and CEO of the indoor fitness boot camp franchise, Fit Body Boot Camp.
To find out more about Bedros Keuilian and his fitness boot camp franchise, please visit http://www.ptpower.com/ and http://www.myfitbodybootcamp.com/