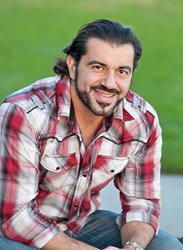 I hope that by revealing these four things more fitness entrepreneurs will maximize their profits and see a surge of new clients knocking down their door...
Chino Hills, CA (PRWEB) February 03, 2014
Bedros Keuilian, boot camp marketing expert and founder of the fitness franchise Fit Body Boot Camp, reveals the top four mistakes that fitness professionals make when starting a personal training business in order to help more of them become successful fitness business owners.
He explains, "These four mistakes are things that most fitness business owners do because they don't have a strong business or marketing background and come straight from the world of personal training. I hope that by revealing these four things more fitness entrepreneurs will maximize their profits and see a surge of new clients knocking down their door."
1. Selling small session packages. This is a mistake because the average fitness client usually needs more than just a few sessions in order to see results. Instead of selling single sessions, think about how long an average clients needs to stay with you to get in great shape and create a program for that. For example, if your average client needs six months of personal training to see results - sell them a six-month program.
2. Undercharging what your services are worth. This common mistake is made when fitness business owners pay too much attention to what their competitors are charging and try to compete with them on price. It shouldn't matter what you charge- as long as you are doing your part to deliver amazing fitness results, there will always be people willing to pay you a premium for it.
3. The sessions you're conducting are too long. With recent research showing that shorter, more challenging workouts produce better results, it makes sense to cut your sessions down from 60 minutes to 30 minutes. Unless you train athletes, there's no reason you should hold sessions without charging a high premium. Most of your clients are capable of getting results in a 30 minute time frame, so cutting back on the length of your workouts is a great way to leverage your time better.
4. Not creating an email list of potential, current, and past clients. By not staying in constant contact with your clients through an email list, you're actually harming your business because you're leaving a lot of money on the table. Start your own fitness newsletter and make it a habit to deliver great content at least twice a month. Try FitPro Newsletter, an automated email marketing tool for personal trainers, if you don't have the time to create content yourself.
To check out more of Keuilian's expert advice on boot camp marketing and growing a fitness business, please visit http://ptpower.com/.
About Keuilian Inc.
Keuilian Inc. was founded by fitness business and marketing expert, Bedros Keuilian. Keuilian has been called the "hidden genius" behind many of the biggest names in the fitness industry – including top celebrity fitness trainers seen on television networks such as ABC and NBC. He is also the founder of the fitness marketing blog, PTPower.com, and president and CEO of the indoor fitness boot camp franchise, Fit Body Boot Camp. Keuilian is a long time fitness business coach and consultant who has taught thousands of personal trainers worldwide how to start and grow a personal training business.
To find out more about Bedros Keuilian and his fitness boot camp franchise, please visit http://www.ptpower.com/ and http://www.myfitbodybootcamp.com/.