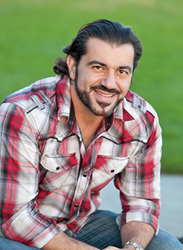 The key is to start creating short videos that share that expertise in a compelling and usable way.
Chino Hills, CA (PRWEB) August 29, 2014
Bedros Keuilian recently stepped outside his comfort zone to serve as a boot camp marketing expert on the new Spike TV reality show, Gym Rescue. The producers of the show found Keuilian when they searched Google for an expert in boot camp marketing and Google directed them to a number of Keuilian's YouTube videos. Now Keuilian has just released a webinar explaining how fitness boot camp owners can use YouTube to build their own status as experts and increase their client base.
In the hour-long boot camp marketing webinar, Keuilian explains the value of YouTube fame and how it can be used to generate a huge number of new leads and make those leads easier to turn into paying clients.
"It used to be that getting into the major fitness magazines and being a guest on a TV show were the holy grail of fitness marketing," says Keuilian. "I've done both, but none of those things came close to rivaling the results I got from YouTube. YouTube is the new TV and I think that this is only going to become truer over the next couple of years. Having several really informative YouTube videos has so much more value than a TV commercial that you'd pay thousands of dollars for."
Keuilian cites as examples people like Mike Chang of Six Pack Abs fame as a prime example of this.
"If Chang had just placed a few banner ads here and there or published a book or video, he'd never have achieved what he has," explains Keuilian. "By posting some really great, usable content on YouTube, he reached millions of people and created a brand for himself as an expert in getting great abs."
Keuilian goes on to explain that every personal trainer or fitness boot camp owner has the knowledge and expertise necessary to do the same and advises them to decide what that expertise is and then share it.
"Some people are fat-loss experts, some are extremely knowledgeable about fitness for seniors and others are passionate about bodybuilding nutrition," says Keuilian. "The key is to start creating short videos that share that expertise in a compelling and usable way, then encouraging viewers to sign up for an email list, newsletter or your Facebook page so that you can continue to deliver great content and motivate them to try your services."
The hour-long boot camp marketing webinar explains exactly how to do that, step-by-step, in simple terms that even the YouTube newbie can follow and replicate. Keuilian has also posted several blog posts on his RenegadeMarketing.com website that coordinate with the webinar.
About Keuilian Inc.
Keuilian Inc. (est. 2007) was founded by fitness marketing and business consultant Bedros Keuilian, who has been named the "hidden genius" behind several of the biggest names in the fitness industry. In addition, he is also the founder of the popular fitness marketing blog, PTPower.com, and founder and CEO of the indoor fitness boot camp franchise, Fit Body Boot Camp.
To find out more about Bedros Keuilian and his fitness boot camp franchise, please visit http://www.ptpower.com/ and http://www.myfitbodybootcamp.com/.