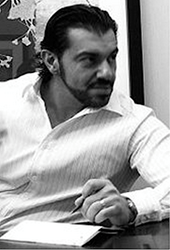 By choosing a target market, you narrow the number of people you have to market to and you also differentiate yourself from every other gym or boot camp in town.
Chino Hills, CA. (PRWEB) September 10, 2014
Bedros Keuilian, founder of the international Fit Body Boot Camp franchise, consultant to Spike TV and respected boot camp marketing coach, has published a new post on his blog this week revealing how boot camp owners can stand apart from other area fitness businesses.
"This is a really great time to start a fitness business like a boot camp or personal training service," says Keuilian. "People know more now about the connection between exercise and a lot of the health conditions that are so common right now. They also understand better that weight loss through diet alone is a slow, Spartan and generally temporary process. So, there are plenty of people out there looking for good training options."
However, as Keuilian points out in his post, this also means that there are many new fitness businesses opening, which can make the competition for new clients a fierce one. His advice to new fitness boot camp owners is to use their boot camp marketing to set themselves above and apart from everyone else.
"New fitness businesses need to narrow their own playing field so that they have fewer competitors or even no competition at all in their own markets," says Keuilian. "As a new boot camp owner or personal trainer, you need to become known as the best or only person who offers what you do."
Keuilian explains that there are two ways to go about this: by specializing in one specific demographic or by specializing in one particular service or result.
"If your boot camp marketing materials simply present your business as a place to work out, then you're going to have a hard time bringing in new clients," he adds. "In other words, if you're offering everything to everyone, then you're also competing with everything and everyone."
Keuilian explains that many successful boot camps target their marketing toward women, seniors, athletes, business people and other demographic groups. Other fitness businesses narrow their field of competition by specializing one type of service. His Fit Body Boot Camps are known for 30-minute, fat-burning workouts offered throughout the day to accommodate busy schedules.
"By choosing a target market, you narrow the number of people you have to market to and you also differentiate yourself from every other gym or boot camp in town. Focusing your services on one area does the same thing."
Keuilian adds that new fitness business owners don't have to limit themselves to one or the other.
"There's no reason you can't do both," he explains. "Offer one specific area of expertise to one or two specific groups and you won't have to compete with 90% of the other fitness businesses in your area."
About Keuilian Inc.
Keuilian Inc. (est. 2007) was founded by fitness marketing and business consultant Bedros Keuilian, who has been named the "hidden genius" behind several of the biggest names in the fitness industry. In addition, he is also the founder of the popular fitness marketing blog, PTPower.com, and founder and CEO of the indoor fitness boot camp franchise, Fit Body Boot Camp.
To find out more about Bedros Keuilian and his fitness boot camp franchise, please visit http://www.ptpower.com/ and http://www.myfitbodybootcamp.com/.