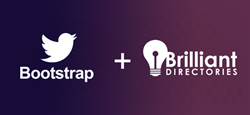 We're thrilled to open our software to millions of new users
Santa Monica, California (PRWEB) September 02, 2015
Since 2009, Brilliant Directories has been a key player in the directory software and membership software space. Their platform helps people rapidly and cost-effectively deploy local business directory websites.
Thousands of budding entrepreneurs and website developers have launched online businesses using Brilliant Directories, spurring a new economy in the directory software space.
Twitter Bootstrap is now the most popular HTML, CSS, and Javascript framework for developing responsive, mobile-first websites. Bootstrap easily and efficiently scales your website to display perfectly on all devices.
What does that mean for users? That the ability to launch websites with little to no technical experience is now within reach.
For over a year now, rumors that Brilliant Directories was set to launch a new 100% Bootstrap Directory Theme have been swirling. While already the top-rated Directory and Membership Software according to Capterra Software Reviews, Brilliant Directories' users have often commented that they wish the directory software could be easier to design and customize.
Brilliant Directories recently announced on their Facebook Page that the official release date for the 100% Bootstrap Theme is set for this coming Labor Day - September 7th, 2015.
"We're thrilled to open our software to millions of new users who already love and use Bootstrap" said Brilliant Directories Co-founder, Matt Brooks. "With our new Bootstrap Directory Theme, we've removed all roadblocks and given full control to users over the design and functionality of the software."
By integrating with Bootstrap, Brilliant Directories will empower users with a mobile-first approach towards designing their directory websites. The front-end design of websites including the homepage, internal pages, member dashboards, and framework, have all undergone a large makeover - finally allowing directory website owners to run their business without any technical coding required.
VIEW LIVE BOOTSTRAP DIRECTORY DEMO
With the release of its Bootstrap Theme, Brilliant Directories has pulled through on their word to meet the needs of a mobile-first era. The most exciting part will be when end-users and developers create their own directory websites with the power of Twitter Bootstrap and Brilliant Directories at their finger tips.
######
Brilliant Directories is a software company based in Santa Monica, California. Their directory software is used to create virtually any type of public or private search directory website. Founded in 2009, Brilliant Directories powers thousands of directory websites with millions of users worldwide -- from local organizations to global enterprises. Learn more at http://www.BrilliantDirectories.com or call 1-800-771-9332.