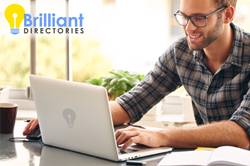 The learning curve to understand Brilliant Directories is relatively small - and once you discover how it works, you'll simply fall in love.
Santa Monica, CA (PRWEB) April 14, 2016
In 2009, Silicon Beach company, Brilliant Directories, exclusively focused on software for creating online membership directories (such as Yellow Page websites), but has since evolved into a full-fledged CMS comparable to popular website building platforms.
The common growth strategy for most website builder solutions has been to maximize user sign ups by targeting broad demographics. Today, more businesses than ever are rushing to get their websites online and require easy-to-use platforms in order to do so.
According to Internet Live Stats, since 2010, the total number of websites has more than quadrupled from 200M to 860M; WordPress alone powers over 18% of websites online today - mainly because of their accessible drag n' drop themes and plugins.
So why doesn't Brilliant Directories advertise their platform as an easy-to-use website building solution like everyone else?
It turns out that Brilliant Directories has discovered a niche of users who require more than basic drag n' drop website themes and templates.
While on the surface Brilliant Directories offers a multitude of easy point-n-click options for beginners, they're more focused on serving intermediate to advanced users.
These advanced users prefer Brilliant Directories because it is a cloud-based CMS that offers deeper source code access and allows them to achieve higher-level development goals.
"Drag n' Drop does not equate to more flexibility or control," says co-founder Jason Haloossim. "We've empowered users with the ability to develop and deploy websites quickly and more effectively with Brilliant Directories. Our idea of easy-to-use stems from a proprietary plug-n-play development theory which allows any block of code to be rendered anywhere on your website. The learning curve to understand Brilliant Directories is relatively small - and once you discover how it works, you'll simply fall in love."
While Brilliant Directories is a relatively new company, their knowledge of web development includes over 30 years combined experience from its directors: Matthew Brooks, Jeff Wyatt and Jason Haloossim. It is currently the only cloud-based CMS platform that provides higher-level source code access to develop websites without the need to modify PHP files.
Other online website building solutions limit access to certain levels of source code that more advanced users require within their cloud-based environments - this is the main difference between easy-to-use, drag n' drop themes and Brilliant Directories.
Customers have continued to praise Brilliant Directories and their user-friendly interface. And to further enhance the benefits of its platform, Brilliant Directories seamlessly integrates with payment gateways such PayPal, eWay, Stripe and Authoize.net - allowing website owners to autonomously manage their income from membership subscriptions, lead sales and more.
As consumers outgrow easy-to-use, drag n' drop website builders and as more students learn how to program, the demand for advanced solutions such as Brilliant Directories will continue to grow.
Big name platforms that offer website building solutions may eventually provide users with more cloud-based source code access. Until then, Brilliant Directories will meet the demands of this active niche of experienced users who simply require more.
###################
Brilliant Directories is a Silicon Beach software company. Their website building platform is used to create virtually any type of public or private website. Founded in 2009, Brilliant Directories powers thousands of websites worldwide - Learn more at http://www.BrilliantDirectories.com or call 1-800-771-9332.