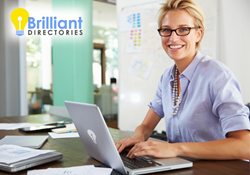 To date, the Brilliant Directories webinar events have attracted over 3,500 attendees from around the world.
Santa Monica, CA (PRWEB) May 25, 2016
Brilliant Directories CEO and co-founder, Jason Haloossim, and digital strategist, David Rocklin, are set to co-host several online events throughout 2016 on topics that showcase the versatility of the directory website software - Brilliant Directories.
Beginning in 2016, Brilliant Directories launched a comprehensive webinar program to educate users on basic and advanced features of the directory software.
The free program is targeted toward entrepreneurs and business owners, interested in attracting additional website traffic, building communities around their brands, publishing shareable content and increasing revenue.
To date, the webinar events have attracted over 3,500 attendees from around the world. Part of this success is due to Brilliant Directories' utilization of Citrix GoToWebinar - providing an interactive platform on which to host the webinars.
One of the key attractions of the events is the open Questions & Answers session that is held at the end of each presentation. Haloossim and Rocklin spend an unlimited amount of time answering questions from attendees. Although the webinar sessions are free for anyone to attend, spaces are limited.
Their upcoming webinar on June 24, 2016 will cover the most important elements of the Brilliant Directories platform related to generating revenue with a directory website. The presentation will demonstrate how a revenue-generating membership website is built using the tools provided by Brilliant Directories.
The two will talk about: conducting advantageous market research prior to launch; modern web design elements; creating a content strategy that drives organic traffic; network building; engaging website members; realizing the benefits of a self-sustaining membership website.
The webinar is taking place on Friday June 24, 2016 at 1:00PM PDT and is free to attend. Registration instructions are available on the event website: Free Webinar Video Guides.
If you are still learning about Brilliant Directories, they invite you to try a 14-day free trial of the directory website software.
Brilliant Directories is a Silicon Beach software company. Their website building platform is used to create virtually any type of public or private website. Founded in 2009, Brilliant Directories powers thousands of websites worldwide – Learn more at BrilliantDirectories.com or call 1-800-771-9332.