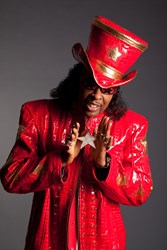 To make a difference the simpliest thing you can do is 'Reach out, and touch somebody!'
Cincinnati, Ohio (PRWEB) September 23, 2013
Bootsy Collins wants to bring Unity in the CommUnity and tour the world to bring attention to #iGiveAFunk. His aim is to teach the power of music to youth using real instruments, not just computers, teaming up with other famous artists. During his tour among various communities, his concerts' attention from the media will give him the opportunity to shine a spotlight on different causes in that community and to help them spread their important messages.
The artist explains, "I actively support and encourage the saving or re-introduction of Music programs to schools around the country and the world. I am involved with many Foundations (not just my own)...but now it is time to take this show on the road! With the #iGiveAFunk campaign I want to let it be known 'we won't complain, we will campaign!'"
The new social movement of Bootsy Collins also has the aspiration of partnering with different organizations sharing the same goals acting as the glue that sews them together, like Facebook did over the Internet. The "Bootsy Collins Center for Creative Arts and Innovation" is another strong desire. In this center, the principles of unity, compassion, non-violence, volunteering, and developing a strong community spirit will be taught to the youth, who will then carry the messages in the US and all over the world. Partnering with larger organizations will also enable the movement to get #iGiveAFunk gear in stores, hearts, & closets of more people while raising awareness and funds at the same time.
As Bootsy Collins emphasizes, "To make a difference the simplest thing you can do is rReach out, and touch somebody!'" This is what #iGiveAFunk is all about... I will be touring the globe touching the hearts, minds, bodies, and souls of those in my path with that Pure-Uncut-Funk-Da-Bomb spreading a message of Unity!"
To participate actively and show your support to Bootsy Collins and his social movement, please visit, support and share http://igiveafunk.com.
About
Bootsy Collins, born in Cincinnati, Ohio is a funk music legend. Bass player for James Brown and Parliament-Funkadelic, he has recorded "Groove is in the heart" with Dee-Lite and has worked with Snoop Dogg, Ice Cube, Dave Stewart, Buckethead, The Red Hot Chilli Peppers, Phil Ramone, Eddie Krammer, Buddy Miles, among others. In 2002, he won a Grammy award with Fat Boy Slim. His latest release is entitled "Tha-Funk-Capital-Of-The World".