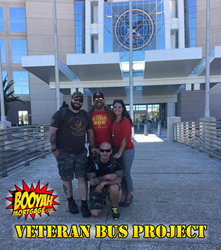 Giving Veterans A Hand Up, Not A Hand Out
Orlando, FL (PRWEB) November 01, 2016
On October 22, Shane Johnson, Robert Shawn Moore and Richard Mccuen began their 360+ mile journey to raise awareness for Homeless Veterans and The Booyah Veteran Bus Project. The 3 Marines geared up and headed out from the VA Hospital, 22 miles south of Orlando Florida and crushed 46 miles in a single day.
On October 24th, Associated Press Award Winner and CEO of American News Broadcasting, Ray Tharaldson, joined the Team to document this epic Journey. When asked why he chose to commit to this project, Ray said "As the son of a Marine, I was deeply inspired by Shane's fierce commitment to our Nation's Veterans. My goal is to capture the espirit de Corps , the heart and drive of this group of Veterans and to raise awareness for all Veterans, who are all to often, forgotten. When I heard what these Marine Veterans were going to do, I put everything on hold and joined the fight." Ray continues "This project has shown me what a group of dedicated Veterans can do and has given me a greater understanding of my father."
On the same day, Charles E. Anderson, Navy Seabee and COO of Revamp Strategies, set out from Panama City Beach with MJ Motta (Business Development Director at Booyah Mortgage) and traveled to Pensacola, FL to receive the RV. Charles first volunteered to build the Booyah Veteran Bus Project website and set the boys up with a Youtube Channel, Video Logo intro & exit and Facebook page. When Shane Johnson put out the call for someone to drive the RV, Charles answered. When asked why he joined the project, Charles said with a smile "I can't let the Marines have all the fun, plus the Navy has always supported the Marines and even thought I can't walk that distance, doesn't mean that I can't provide logistical support." Charles continued "When we built the website and started talking with Shane, I immediately knew that this Marine is the real deal. His passion, directness and drive inspired me to take action. In this world, there are talkers and there are do'ers… Shane is a do'er… Can Do is the Seabee Motto, so I took action" Charles was raised by his Grandfather, "Duke" Mucko who is an Army Veteran of the Korean War. Charles comes from a Military Family and has a 1st cousin, John Rico, who served in Afghanistan as a Combat Engineer in the Marine Corps.
As of October 30th, Shane, Shawn, Richard, Charles and Ray have been on the road for 8 Days and have covered over 150 miles. They continue to advance forward to Panama City, where they will join the Veterans Day Parade on November 11th. To follow along, visit the website http://www.BooyahVeteranBusProject.com. They are uploading daily posts to their Blog and Facebook as well as Live Facebook Broadcasts and Videos for Youtube.
Shane Johnson is a Marine Veteran who owns and operates Booyah Mortgage, a company providing VA Loans in Florida. He can be reached at (704) 574-6611 to do "on the road" phone interviews. If anyone wants to help support the cause, first visit the Facebook page and post something and someone will begin a conversation. The website has a donate button and T-shirts for sale.