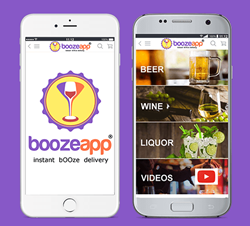 Instant liquor delivery app
New York, NY (PRWEB) June 14, 2017
Boozeapp.com is an on-demand liquor delivery service offering beer, wine, liquor, mixers and bartending services in New York City. Boozeapp partners with neighborhood liquor stores to deliver liquor instantly under an hour or for a future delivery date. The prices are the same as the liquor stores, without any markups. Boozeapp is the first alcohol delivery service in New York City that offers Beer Delivery 24/7, an offer subject to certain restrictions under state and local laws.
People can order liquor online at boozeapp.com or by downloading the app through the App Store or Google Play. Sitting on a couch, customers can browse 1000s of alcohol beverages and order for instant delivery under an hour. This alcohol delivery app advertises sponsors' products as featured items to ensure that its users have access to the highest quality beer, wine, and spirits.
Entrepreneurs Raj Ram and Suresh Peddu discovered an opportunity to revolutionize liquor sales by providing ultimate convenience to customers. In addition to its liquor delivery services, boozeapp features cocktail videos to assist customers in creating their favorite drinks under two minutes. Boozeapp also has its own YouTube channel where people can watch and learn to mix their favorite drinks.
The Liquor delivery app provides ultimate convenience to New York City residents and businesses, similar to how they order food. Boozeapp offers Liquor Delivery service to Homes, Offices, Hotels, Corporate events and Private Parties. After a successful launch in New York City, boozeapp looks to expand nationwide.
Boozeapp engages in social media by providing product and service updates on Facebook, Instagram, Twitter, Google+ and YouTube. Boozeapp is a registered trademark and a service offered by WINEBL INC, New York.
For investor relations and inquiries, please contact us.
Contact:
info(at)boozeapp(dot)com
855-TO-BOOZE
http://www.boozeapp.com