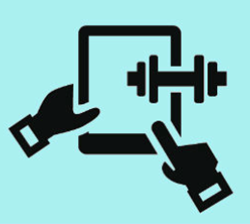 Simple is better. If you're not clear what your business's core value is, clarify this first so that all communication strategies can point back to one memorable motif.
San Diego, CA (PRWEB) April 12, 2014
Last month, The U-T San Diego recently reported that technology giant Intel recently acquired fitness tracker Basis Science, demonstrating that interest in wearable fitness technology is still growing among consumers. Hand-in-hand with the technology is the brand messaging and online interface that supports the gadget itself and encourages more subscriptions. San Diego web marketing agency Bop Design has recently released a list of tips to help health & fitness websites support their businesses with a strong, clearly defined brand.
"Consumers are now aligning themselves with health and fitness brands that they feel share a like-minded perspective," explains Bop Design Creative Principal Kara Jensen. "The great news is that any health and fitness company can take some simple startup branding steps to immediately to engage with clients in a long-lasting and meaningful way that can continue well into the future."
The following are the tips from Bop Design.
Get clear on the message. This is the driving message around which the business's point of view should be focused. "What is your unique offering? What is your business all about? Fitness and health branding is all about boiling down your unique value proposition into one or two sentences," explains Jensen. "Simple is better. If you're not clear what your business's core value is, clarify this first so that all communication strategies can point back to one memorable motif." A clear platform separates a business from its competitors and makes it easier for clients to remember.
Marketers should create a clear visual and tonal identity for their fitness brand, and stay consistent. They should avoid confusing readers with contradictory tones of voice or a weak or unmemorable logo. Instead, Bop Design encourages marketers to develop an internal company brand guide that explains how their logo should be implemented, what type of communication styles should be used and when, how to speak to clients and official fonts for marketing materials including websites and newsletters. Consistency is key in branding especially with fitness brands where one is essentially selling the value of a lifestyle change.
Marketers should listen to their clients. Jensen explains, "Ask your clients which topics and questions interest them the most. Engage with them. When you do, you'll find that they become more dedicated to your brand." When a health and fitness website moves from one-sided interaction to a two-way conversation, clients relate to the company more like a trusted friend rather than just a business.
Release regular content. Part of any decent fitness branding strategy is to release helpful content regularly. It's not easy to make a dramatic lifestyle change and regular content helps keep a target audience on mission. Also, content supports the ongoing SEO efforts and provides an opportunity for repeat engagement with clients. "Whom do you consider a better friend—the one who reaches out through email once a week, or the one you only hear from once a year? Your clients feel the same way. Familiarity breeds affinity, which ultimately leads to increased sales," says Jensen.
Fitness brands should create more opportunities for further engagement by developing webinars, retreats, events, and products. Not only can these become additional sources of revenue but they are also opportunities for clients to engage with the brand in a physical way. Once a business's unique brand position is clarified, these become chances to spread that message to the masses and convert clients into brand evangelists.
Jensen concludes, "Setting a solid foundation for your fitness website and structuring a consistent two-way flow of communication between you and your clients is a major first step toward setting up a solid lifestyle brand."
###
Bop Design is a San Diego marketing and web design agency with offices also in Orange County, CA and the New York metro area. Specializing in B2B, Bop Design creates holistic marketing plans geared toward lead generation and business development. Bop Design offers services in branding, logo design, website design and development, responsive web design, SEO, PPC, social media and content marketing. http://www.bopdesign.com