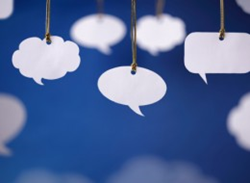 People want to read 'behind the scenes' stuff—including stories about things that have gone wrong in your business and how you went about fixing them.
San Diego, CA (PRWEB) October 03, 2013
Small business owners are increasingly connecting with current and prospective customers through creation of content-rich business blogs. The best small-business bloggers "create content that helps solve customers' problems," notes Brian Halligan, CEO and co-founder of marketing software developer HubSpot. "Because the content is valuable, it gets shared and acts like a magnet to pull in new customers."
To answer the inevitable question small business owners have—"What should I write about in my blog?"—Jeremy Durant, Business Principal at Bop Design, a San Diego web design agency, offers some guidelines and suggestions:
Be interesting. "Some people with overactive egos might take this to mean, write about yourself," Durant says, "but that's not a winning strategy." Instead, commit to producing content that informs and entertains your potential audience.
Be honest and authentic. "Readers aren't generally interested in hearing about how wonderful your products or services are," Durant notes. "That may emerge indirectly, but mostly people want to read 'behind the scenes' stuff—including stories about things that have gone wrong in your business and how you went about fixing them. People want to hear your voice in the words you write."
Focus on the customer. When a business blogger sits down to write, he or she should pretend they're speaking to a couple of favorite customers. What issues do these customers have to contend with on a daily basis? What knowledge can the blogger share that will make their lives easier?
Explain your product or service without hype. On occasion, it's okay to write a blog that focuses on a product or service. But do so in the context of customer concerns, not as an opportunity to go on about a product's "unmatched excellence," etc.
"If you provide a service that's hard for people to grasp right away, offer some detailed explanation," Durant says. "Do customers find using your product difficult at first? Help them understand how to make it useful for them."
Interview an expert. There are experts in virtually every field and many will gladly respond to a request for an interview. Think about the kinds of questions customers would like answered and ask those questions in the course of an email interview. Write up the post in a Q&A format, run it past the interview subject for approval, and then it's good to go.
Feature people who work for you. One key reason for writing blog posts is to humanize a business for prospective customers. "When you do a brief feature on one or more of your best employees, you're giving your business a human face," Durant says, adding that it's always a good idea to include their photos in the post. "Let these employees' passion for the business shine through, as well as their dedication to customer service. These men and women will in many cases have a keen perspective on issues important to customers."
Invite others to contribute. Many business blogs feature "guest bloggers" from time to time. Think about an employee who's demonstrated proficiency with the written word and see if he or she would like to contribute a business-related post. Or look to others in your professional network who wouldn't mind trading some effort for a bit of publicity on your blog.
Be prepared to give away your expertise. "Regardless of your subject matter, don't stint on what you share with your audience," Durant advises. "In the digital age, readers will quickly pick up on misguided attempts to safeguard your intellectual property. The more value you offer through your blog posts, the more readers will come to trust you and regard you as a thought leader in your industry. Then you'll realize the true benefits of hosting a business blog."
Bop Design is a San Diego web design agency with offices also in the New York metro area. We express a business values through branding, advertising, design and web design. We also help attract a firm's ideal customer through search engine optimization and search engine marketing. The marketing firm's focus is on small businesses that want an external team of marketing specialists to help give their brand an edge in the marketplace.