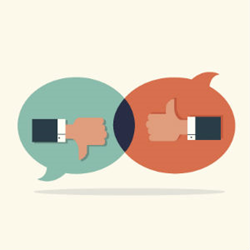 Your blog should be a resource for people—not an online commercial.
San Diego, CA (PRWEB) February 24, 2014
A 2013 CEO.com survey found that less than one third of CEOs have a corporate blogging presence. San Diego web design company Bop Design responded by publishing a list of suggestions for corporate bloggers, especially in B2B industries. "Creating fresh and relevant content for your B2B corporate blog might seem daunting," explains Bop Design business business principal Jeremy Durant. "However, regularly updating your blog with useful content will not only give your readers more reason to become evangelists for your company, but will also give a definite boost to your SEO."
Here is Bop Design's list of best practices for corporate blogging.

DO research what is important for clients. Corporate bloggers should pick helpful topics for their audience or address relevant industry questions or concerns.
DO split up posts into multiple parts. This ensures that no posts are too lengthy and therefore overwhelming for readers.
DO highlight staff members. A B2B blog can seem more human by profiling a staff member's job or contribution to the team. Or, marketers can reach out to their staff to create blog posts describing the business's offerings from their perspective.
DO repurpose blogs for white papers, newsletters, and press releases. After creating all this great content, it would be a missed opportunity to neglect to re-use it to fully flesh out a business's content marketing efforts.
DO cross-link to other posts and pages on the site. Bloggers should refer back to other articles from their website and be sure to include easy-to-spot links. This encourages readers to spend more time on the company website.
DO read other people's blogs. Part of becoming a better blogger is to see what others in the industry are writing about.
DO use the trades to research hot industry topics. This also helps marketers when when converting their blog posts to press releases since posts will be timely and relevant to the industry.
DO use plain English. No one wants to read a report, so it's okay to write in a conversational tone. For some marketers, it might be easier to record themselves speaking about their topic first, then transcribe it.
DO use a professional to help manage content marketing. If procrastination is a problem, bloggers should either hire someone else in their organization to handle the content creation or work with a web company that handles content marketing to provide fresh, relevant, compelling content on a regular basis.
DON'T get too personal. Marketers should keep their B2B blog professional. While it's great to highlight extra-curricular work activities that promote the business' non-profit efforts (such as walk-a-thons or charity sponsorship), skip family photos or company retreat photos. Some things are best kept private.
DON'T get political. A corporate blog is not a personal soapbox. Stick to industry topics and leave out all other potentially incendiary topics.
DON'T get too sales-y. "Remember, your blog is there to help readers," says Durant. "Your blog should be a resource for people—not an online commercial." Blog posts may have a light call to action in conversational English but should skip the hardcore sales shtick.
###
Bop Design is a San Diego web design and development agency with offices also in Orange County, CA and the New York metro area. Specializing in B2B marketing, Bop Design creates holistic marketing plans geared toward lead generation and business development. Bop Design offers services in branding, logo design, website design and development, responsive web design, SEO, PPC, social media, and content marketing. http://www.bopdesign.com