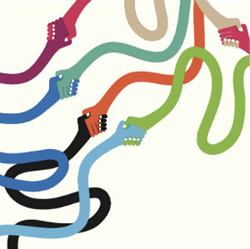 The more clearly you can describe your ideal customer, the more easily your web team can design a look that meets your expectations.
San Diego, CA (PRWEB) February 05, 2014
San Diego marketing firm Bop Design has released a list of tips to help marketers trust their design teams when undertaking a massive project such as a website launch or redesign. "Picking the right web design company to update your business website can mean the difference between a project that runs smoothly or a process that is riddled with missteps and blown budgets," explains Bop Design creative principal Kara Jensen.
After marketers have selected an experienced team for their web design project comes the real challenge: working together over the length of the project to ensure that the business's needs are met and that the project is successful.
Bop Design maintains that at the center of this yin and yang is one key principle: trust. Here is a list of Bop Design's suggestions to marketers and CMOs to learn to trust their design team, for projects on the web.
Previous Work
Before beginning a project with a new design team, marketers should ask to see samples of the company's previous work. If the team has worked in an industry or on a project that is similar to their client's needs, marketers should use that as a sign that they know the landscape and can help navigate it.
Understand the process
A quality web design company should follow a specific process with quantifiable benchmarks throughout the length of the project. If a design team does not explain their process, marketers should ask—before work begins. This ensures that marketers will know what to expect and if setbacks or changes occur, they will not come as a surprise.
Set deadlines and expectations
Setting clear expectations and deadlines at the start of a redesign ensures that everyone is working toward the same goal. If a project gets off track, it can easily be course-corrected. Marketers should ask their team to set benchmarks to measure progress at the outset of the project and make sure they stick to the plan (or give plenty of notice if they encounter unforeseen challenges.) On the flip side, marketers must live up to their end of the bargain by replying to the team's questions clearly and quickly to avoid any schedule stalls.
Communication
Communicating with a design team can be tricky, since marketers might not be aware of the correct design jargon. Web design companies are accustomed to this problem and will work to help their clients articulate exactly what they are seeking. Bop Design admonishes marketers to not be vague with their feedback. "I don't think I like it…" or "It doesn't feel right…" without additional explanation does not help the team figure out what IS desired.
Instead, marketers should use clear directives and follow each with a short explanation. For example: "I would like our accounting services to be featured more prominently on the website since that is where we are focusing most of our new business development right now." Communication like this will aid the team's subsequent decision-making and can help them anticipate upcoming needs.
"Another tip to communicate with designers is to use adjectives that reflect personality types," continues Jensen. "You might tell your team that you want your website to be more approachable, expert-looking, upscale, or simple."
Additionally, marketers should clearly articulate their target markets to their design team. This will help the team determine the colors, layout, fonts and photos for the website or other marketing materials. "Be specific," says Jensen. "The more clearly you can describe your ideal customer, the more easily your web team can design a look that meets your expectations."
Quit micro-managing
Marketers should resist the urge to micro-manage their design teams. It slows down the process and erodes their morale. Instead, Bop Design suggests trusting their years of experience. Jensen explains, "Quality design teams understand what their process is. You don't like it when your clients micro-manage you; neither do design companies."
Don't be afraid to defer
When in doubt about a design, layout or UX solution, marketers should defer to their design team. Reputable design companies are up to date with the newest trends and they will want to push a business website to the cutting edge of web design best practices, to ensure that the business will get at least a few years' longevity out of their website. Unless a marketer has a very good (and clearly-articulated) reason for changing the design, leave it as is.
"It's not always easy to put your company's goals and future success in the hands of someone who is tasked with representing your company to the outside world but who doesn't work within your company walls," concludes Jensen. "But by developing these tools of trust, you can confidently loosen the reins and rest assured that your design project won't crash and burn."
###
Bop Design is a San Diego web design and development agency with offices also in Orange County, CA and the New York metro area. Specializing in B2B marketing, Bop Design creates holistic marketing plans geared toward lead generation and business development. Bop Design offers services in branding, logo design, website design and development, responsive web design, SEO, PPC, social media, and content marketing. http://www.bopdesign.com