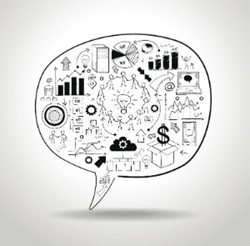 We're tired of being told B2B is unimaginative, uncreative, and flat-out boring. We think you're tired of hearing it too.
San Diego, CA (PRWEB) December 30, 2013
Today, Bop Design released seven resolutions to implement for the New Year in the B2B marketing industry. Facing 2014 with new terminology such as native advertising, paid social media, responsive web design and more, the firm outlined seven areas to improve in the coming year.
"B2B marketing was once considered behind the curve in implementing new trends and practices," says Jeremy Durant, business principal of Bop Design, a San Diego web design and development agency. "But today, B2B is often just as forward thinking as B2C marketing and we hope to keep the industry on trend with the following resolutions."
Below are Bop Design's top seven marketing resolutions for 2014:
1) Break the Boring B2B Mold
"We're tired of being told B2B is unimaginative, uncreative, and flat-out boring. We think you're tired of hearing it too," says Durant. The industry is headed toward humorous headlines, sensational social media and wonderful website design. Durant reassures, professionalism still comes first, but personality is a close second.
2) Experiment With Customized Social Advertising
While LinkedIn was always considered the "bread and butter" of B2B, Durant suggests experimenting with other social platforms where a business may not have as strong of an established following. Twitter and Facebook offer similar social advertising solutions that can build a brand.
3) Don't Toss Print Out of the Window
With mail consisting of mostly phone bills, the Pennysaver or belated birthday cards, the business mailbox is starving for personalized, thoughtful mail. "We mean awesomely designed, hyper-targeted, useful mail that gets a decision maker's attention," says Durant.
4) Optimize Websites for Mobile
"We recently rolled out the mobile site for Bop Design, so we understand that it's difficult for businesses to undertake yet another design and development process once the website is live," says Durant. He stresses to not abandon or postpone the idea, rather design the mobile site alongside the current website design to ensure all the key needs of the business are addressed. "You also may want to look into a fully responsive website in 2014 – a website designed for optimal viewing on all platforms," says Durant.
5) Branding = Design + Content + Service
Perfecting the balance between a well-designed, relevant, and customer-oriented brand requires a lot of juggling. Oftentimes customers come across a great company with a lackluster website and brand message or a polished, professional brand with awful customer service. Focus on finding the balance in 2014.
6) Develop For Efficiency
"As our design team pushes the envelop in web trends, our development will focus on creating the most efficient, optimized site possible," says Durant. A beautifully designed site is useless without source code that is friendly to all the performance needs such as SEO, responsive, mobile and more.
7) Progress Over Perfection
"We strive to create marketing solutions that seamlessly weave into your business and resonate with your ideal customer. This sometimes means picking a candid website image, starting a Twitter account, or changing your company name. We get excited to see executives passionate about their brand who do not overthink and understand that action is the most important marketing tactic," says Durant.
###
Bop Design is a San Diego marketing agency with offices also in Orange County, CA and the New York metro area. Specializing in B2B marketing, Bop Design creates holistic marketing plans geared toward lead generation and business development. Bop Design offers services in branding, logo design, website design and development, responsive web design, SEO, PPC, social media, and content marketing. http://www.bopdesign.com.