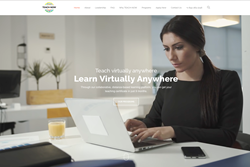 Washington, DC (PRWEB) May 03, 2016
Borenstein Group, a national digital strategy and digital marketing communications agency, is pleased to announced it has won two international digital branding awards for the rebranding of TEACH-NOW, a rapidly growing online global teacher preparation and certification company that improves teacher education through an innovative cohort-based, activity-based, collaborative model for teacher education. Borenstein Group has won The Hermes Creative Gold Award, which recognizes outstanding work in the global creative industry. Hermes Creative Awards are administered by the Association of Marketing and Communication Professionals. In addition, Borenstein Group has also won An Award of Distinction in the School/University Website category by The 2016 Annual Communicator Awards that was selected by the Academy of Interactive & Visual Arts (AIVA).
Mr. Gal Borenstein, CEO of Borenstein Group, stated, "The digital strategy of the rebranded web site was built to help our client express their organizational alignment with the new generation of teachers that are using mobile first, who are teaching a new generation of students that are learning online, using their tablets, iPhones, Androids, and the web as the hub of knowledge. This made it imperative to communicate how e-learning is done, quickly and efficiently through design, content marketing, and overall experience, to prove that the 'medium is the message'." Borenstein Group's digital strategy and execution included redesigning the User Interface (UI) and User Experience (UX), leveraging sophisticated online behavioral analytics and data insights, and competitive analysis, as well as the production of a series of digital video testimonials from teachers who attended the program, to evoke authenticity and instantly connect with international prospects. Borenstein Group also optimized the digital site for mobile users, as well as enhanced the Search Engine Optimization supported by a highly effective national Search Engine Marketing campaign for sale enablement and recruitment marketing.
Gal Borenstein added, "We are elated to receive this third-party validation from the international creative community. It serves as reinforcement to the strong results we've seen when you combine strong digital market strategy, effective use of intelligent behavioral user analytics, and delivery of creative and intuitive User Interface (UI) and User Experience (UX) for high-quality conversions."
According to TEACH-NOW's website, "Unlike other teacher preparation programs, whether online or traditional brick-and-mortar institutions, TEACH-NOW is an activity-based learning-to-teach model where candidates are grouped in small 10-person cohorts and move through a series of modules together, working and learning collaboratively in virtual meetings, discussions, and group work as well as individual projects, with a focus on deep interaction among candidates and instructors. The program familiarizes teachers with the technology that many of their future students have already mastered. They are also sharing information with their instructors and the entire cohort of candidates—including a large percentage from other nations—thanks to a pioneering patent-pending digital platform with both asynchronous and synchronous elements. After launching its digital platform with 10 students in 2013, TEACH-NOW now has students across the United States and in over 50 countries, and is experiencing high double-digit growth."
To see how TEACH-NOW's new website incorporates innovative video, responsive user interface (UI) and higher conversion experience, visit their site at TEACH-NOW.COM. To learn more about the Borenstein Group, please visit BorensteinGroup.com.
About Borenstein Group:
Borenstein Group, Inc. is a Northern Virginia-based digital marketing communications agency that specializes in the areas of professional services, higher education, information technology, homeland security, defense, intelligence, telecommunications, aerospace, non-profits and government. For more information, call 703-385-8178 Ext: 28 or visit us at http://www.Borensteingroup.com.