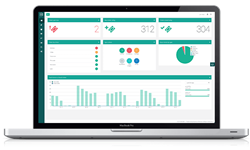 "Since implementing BOSS811, the feedback from our locator crews and their management has been fantastic". Rick Young, Application Manager, Forsyth County, GA
ATLANTA, GA (PRWEB) February 17, 2016
In response to demand from our global customer base of millions of users, BOSS is pleased to announce BOSS811, a powerful, one call ticket management solution for the damage prevention industry. As an exhibitor at the annual CGA 811 Excavation Safety Conference & Expo, BOSS is proud to be showcasing the BOSS811 product at the event, which is being hosted this year at the Mirage Event Center in Las Vegas, Nevada March 8-10, 2016.
The new addition to BOSS's already extensive suite of software products will allow pipeline companies, contract locators, utility companies, and municipalities to significantly reduce the costs associated with excavation and locate requests as well as offering the ability to optimize operational efficiency.
BOSS811 is a totally cloud based offering and includes many attractive features including a mobile client with offline capabilities, integration with mapping technologies such as GIS and ESRI, a powerful routing engine, and extensive reporting abilities with user friendly dashboards.
After successfully completing beta testing of the product with Forsyth County, GA, Application Manager Rick Young, has this to say about BOSS811:
"Our water department's utility locators are now using BOSS811 to manage the locate service we receive from the state 811 agency. The BOSS811 team worked closely with our departments to put an amazing solution in place for us. Since implementing BOSS811, the feedback from our locator crews and their management has been fantastic. On average, our water department receives 2,500-3,000 tickets per month. The ticket management vendor we had been using to track state 811 service requests was charging us on a per ticket basis and it was very difficult to budget for the charges with the fluctuation in the number of tickets. The BOSS811 product is a flat rate cost regardless of the number of tickets so budgeting for this service is now much simpler and we now have a superior product".
Providing versatile functionality along with an affordable price tag, BOSS811 integrates into existing technologies, offering easy setup and requiring minimal training.
Initial beta testing of the BOSS811 product took place with multiple customers including Forsyth County. The product's favorable reception is increasing BOSS's market presence in the Damage Prevention Industry.
BOSS has a long history of providing superior infrastructure management software. The new BOSS811 product will allow organizations to increase the operational efficiency of locating and excavation requests and lower the associated costs.
The CGA 811 Excavation Safety Conference & Expo is the largest educational and networking event in the utility damage prevention community. The annual event is dedicated to raising industry awareness and providing educational content about protecting buried assets.
Visit BOSS at booth 230 to learn more about BOSS811.
For more information about the CGA 811 Excavation Safety Conference & Expo, visit: http://www.cgaconference.com
To learn more about the BOSS811 product and try it at no cost visit http://www.boss811.com