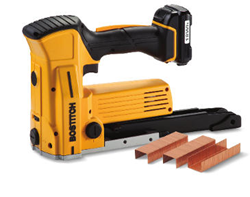 World's First Battery, Cordless Carton Closer from Bostitch
(PRWEB) July 03, 2014
The new Bostitch cordless carton closer gives the convenience of working anywhere, anytime, and the performance, power and user-speed superior to any tape applicator. Compact and lightweight, the new carton closer is super portable, allowing it to be transported easily from job to job, closing boxes of many sizes quickly and securely. It is available in two models: 15/19mm and 19/22mm, which are both powered by 10.8V/1.3Ah Li-ion rechargeable battery packs capable of driving up to 800 staples per charge, and recharging in less than 45 minutes. Each carton closer is supplied with 2 battery packs enabling continuous run time as the first battery can be charged whilst the second is powering the tool.
The new cordless Bostitch DSA 3519 will drive 15 and 19mm staples, and the DSA 3522 will drive 19 and 22mm staples to create a stronger, tidier seal than traditional tape closing. Both models have quick release magazines to allow fast staple re-loading, and intuitive adjustment of staple closure, or 'clinch', to make the right staple profile for every carton without the risk or waste of operator trial and error.
As the market leader in fastening innovation, and the only brand with a full range of cordless, pneumatic and manual carton closers, the new Bostitch tool comes with many practical features and benefits as standard including; comfortable rubber grip and ergonomic second hand position for ease of use; front and side tool protection to prevent damage; and a smooth base plate for quick, easy stapling.
The heart of the new Bostitch cordless carton closer is its market leading Li-Ion battery technology. Ideal for high-load, repetitive applications the batteries have 33% longer run time than other 3Ah batteries of similar size and weight. They have very slow loss of charge when not in use, and no 'memory' effect – in other words you can top up the battery's charge to give a full life whether it's fully or only partially discharged.
With the launch of this world-first cordless carton closer, Bostitch Marketing Manager, Tony Ward, explains, "By combining our leadership in cordless tool batteries with our expertise in high performance stapling tools we've now got the ideal solution for any user from large manufacturers and logistics centres to removal professionals."
Part of global tools manufacturer, Stanley Black & Decker, Bostitch is a leader in nailers, staplers and fastening solutions. It is an innovator in high quality manual, battery, gas, and pneumatic tools and related accessories for industrial and commercial applications from construction and manufacturing to packaging and professional woodworking. For more information visit http://www.bostitch.co.uk.
Please send reader enquiries to:
Tony Ward (Marketing Manager)
Bostitch UK
Stanley UK Logistics Centre
Gowerton Road
Brackmills Industrial Estate
Northampton NN4 7BW
T: 0870 1630 630
F: 0870 1670 670
E: bostitchuksales(at)sbdinc(dot)com
http://www.bostitch.co.uk