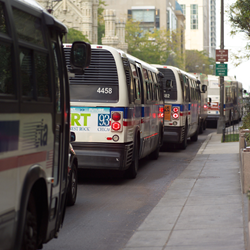 After the tragic Boston Marathon bombing on April 15, 2013, the whole city became very security conscious, including security on public transport for drivers and passengers.
Tres Cantos, Madrid (Spain) (PRWEB) October 08, 2014
A new case study on Teldat's H1-Automotive+ router installed on the city of Boston's bus fleet in USA has just been released on our website; a project managed by our client Minuteman Security Technologies.
After the tragic Boston Marathon bombing on April 15, 2013, the whole city became very security conscious, including security on public transport for drivers and passengers.
The Challenge
Teldat's client and project's integrator, Minuteman Security Technologies, got the project assignment. Their mission was to find a powerful router that could integrate the entire video solution project and also act as the core of the surveillance system. This project included many challenges, the first of them was of course to provide a high performance IP router with Wi-Fi and LTE to allow live video connections to both police patrol cars and to police control rooms in order to insure passenger safety throughout any point of a bus route.
Moreover, the solution provided had to be scalable, so buses could be easily and quickly equipped with routers. It was also important that the bus environment required a rugged router due to the shocks, vibrations and extreme temperature range. Finally, the recorded videos of almost the entire fleet had to be uploaded via Wi-Fi each evening at the marshaling yards. This involved a high data transfer in a limited space.
The Bus Video Surveillance Solution's Router
The Teldat H1-Automotive+ router is a rugged in-vehicle router that met all the project's requirements. This bus router is able to provide dual LTE/4G cellular modules, as well as 802.11n for Wi-Fi in both access and client modes. Moreover the bus router is equipped with a dedicated GPS interface, which is able to provide tracking information and controls operation of the router based on location. To allow video to be accessed in real time, even when the bus is moving, the Teldat H1-Automotive+ bus router is totally integrated into the client's advanced private cellular network to ensure passengers' security. In order to completely satisfy the client's requirements, Teldat's software design has been modified to improve Wi-Fi performance, so that the video can be uploaded quickly at the marshaling yard using exclusively the 802.11n standard for Wi-Fi.
The Access Point selection functionalities of the bus router have also been enhanced to guarantee that each bus will always choose the Access Point with the highest performance while it's moving around the marshaling yard. It is important that the bus's router is easy to set up, having an appropriate size to fit in its location within the bus. Of course, this Teldat rugged router meets other requirements such as temperature range, anti-shock and anti-vibrations functions.
The results of the Teldat H1-Automotive+ bus router have been outstanding. It has met all of the client's project requirements, fitting precisely their needs. Thanks to the Teldat bus router solution the police situational awareness improved significantly. The transit police on patrol have access to live video from each bus on route and the police control room has access to live video of the whole bus fleet. Indeed, the transit police are now able to provide a higher level of assistance to passengers making them feel much safer when using the bus service.
The Teldat H1-Automotive+ was selected to be the rugged in-vehicle bus router used for the project because of its high performance LTE cellular support, industry standard networking protocols and compelling value that did turn the scale among the few competitors that were able to provide similar solutions.
So it was not just Teldat's experience when it comes to bus fleet installations that gave the confidence needed to be the chosen one. It was also specific product features such as the router's rugged design or multiple GEO-Fence (a GPS based control). Teldat provided very close support and attended the client's needs at all times, to make sure any new requirements needed were properly and promptly implemented.
Without meeting all of these previously mentioned requirements and the very close collaboration between all involved parties, the project objectives could not have been met and the corresponding results would also have not been the same.
Much more than just a video surveillance bus router
However, the Teldat H1-Automotive+ router offers many more interesting features apart from those mentioned above, specifically related to the bus project in Boston (USA). In other public transport projects Teldat H1-Automative+ router has not only given security to moving vehicles and its passengers and drivers, the router has also become part of the service given by the bus company to its end users. That is, offering the passengers on the bus the possibility to connect to the Internet via the Wi-Fi accessible from the Teldat router.
Indeed, Teldat H1-Automotive+ can be used solely as router to only give Internet connection to the passengers, without a related security project behind it. This has been the case in other projects.
Moreover, the Teldat H1-Automotive+ is a router that can be placed on any vehicle. Not only buses, but also trucks, industrial/commercial vehicles and any public security vehicle, such as ambulances, fire engines or even police cars.
Independently, Teldat also offers a specific solution to provide the same type of advanced services aboard trains and other rolling stock with Teldat's rail routers; specifically the H1-Rail router and the bintec W2002T-n Wireless LAN device. These devices are able to endure all the rigorous conditions present on a moving train and at the same time their advanced network provide highly available, reliable and secure broadband connectivity.
The Teldat H1-Rail enables WAN connectivity while the bintec W2002T-n provides Wi-Fi connection throughout the whole train, either for passengers or the staff. Both devices are fed by the train's available voltage and are certified according to EN50155, which are very demanding standards required for onboard train communication routers and devices.
Conclusion
In conclusion, any road vehicle or rolling stock communications project may have different objectives, but the results are achieved in the same way.
Firstly, a solid Teldat vehicle router, with all the advantages that the advanced Teldat operating system offers: protocols such as route balancing, RIP, OSFP, QoS, advanced VLAN and many more.
Secondly, these Teldat devices connect with various types of communication networks (LTE/4G/3G, Wi-Fi, LAN) giving access to private and public networks.
Thirdly, this permits any type of data and voice transmission to be managed and fourthly Teldat offers all of this backed up by a company philosophy of always being very close to its clients and flexible to their needs and requirements.
About Teldat
Teldat Group is a leading globally operating European technology holding with approximately 700 employees that manufactures and commercializes advanced Internetworking platforms for business environments, from a corporate to small company level. During Teldat's more than twenty five years of experience as a telecommunications provider, more than 250,000 devices have been installed in 800 networks for some of the most demanding carriers and multinational corporations, including markets such as banking and finance, utility providers, transport, retail and government institutions. Teldat invests heavily in research and development enabling the Group to have a strong product portfolio and adapt to its clients' specific and varied needs. Teldat is present in more than 35 countries across the globe, with Teldat offices in countries such as USA, Germany, Mexico and China, among others and expanding.
For more information, please visit http://www.teldat.com
About Minuteman
Minuteman Security Technologies specializes in unified security system solutions for small and medium sized enterprises as well as for government clients. Founded in 1988, their vertical markets comprise financial services, healthcare, higher education, insurance and transportation. The headquarters of this medium-sized company is located in Andover, Massachusetts. A provider of advanced corporate, business & government security systems and solutions ranked #68 of the Top 100 Security System Integrators in North America in 2013. They are opening new offices in Portland, Maine to meet the demand of their clients.
Web: http://www.minutemanst.com