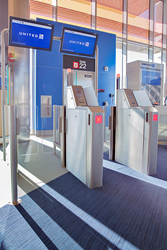 The self-service process offers the passenger a secure and efficient means of boarding the aircraft and frees valuable time for the gate agent to focus on customers needing personal attention.
Winston Salem, NC (PRWEB) May 20, 2014
Passengers at Boston Logan International Airport (BOS) can enjoy a more streamlined travel experience thanks to 16 Kaba automated, dual lane self-boarding gates found in the airport's new Terminal B concourse. The 10-gate concourse, which serves United Airlines customers, will help expedite the passenger boarding process, reduce wait times and improve the overall airport experience.
Kaba automated self-boarding gates are specifically designed to efficiently control passenger flow and comply with Association of European Airlines (AEA) protocol. AEA has been instrumental in the development and establishment of specifications for automated ticketing and boarding processes.
"Self-boarding allows ticketed passengers to utilize automated gates to quickly board their flight by scanning a boarding pass printed at home, an onsite kiosk or received on their smart phone. The self-service process offers the passenger a secure and efficient means of boarding the aircraft and frees valuable time for the gate agent to focus on customers needing personal attention," said David Wurtz, director of business development, Kaba PAS North America. "Our self-boarding gates have improved the overall travel experience for a number of years at many airports throughout Europe and North America. Automated self-boarding advantages are clear – faster boarding, increased on-time departures, reduced operating costs and better customer service. Both United Airlines and their customers benefit," states Wurtz.
Along with Kaba's automated self-boarding gates, the new BOS Terminal B concourse features many modern self-service technologies that will streamline the airport experience for seasoned travelers and enable United employees to spend more time with customers who need extra assistance. These modern features include self-tagging baggage kiosks and a new customer service center.
Kaba and United also partnered in 2013 for an installation of 14 self-boarding gates at Houston International Airport (IAH). For more information regarding Kaba self-boarding gates, exit lane breach control, and other airport security solutions, contact David Wurtz – david(dot)wurtz(at)kaba(dot)com.
About Kaba Access and Data Systems Americas
With offices in Lexington, Kentucky and Winston-Salem, North Carolina, Kaba ADS Americas is a subsidiary of the Kaba Group (SWX-KABN). The Kaba Group is headquartered in Rumlang, Switzerland with over 7,500 employees in nearly 60 countries. KABA ADS Americas offers comprehensive solutions for security at access points to buildings, containers, as well as for recording personal and enterprise data. Kaba's products utilize the latest technologies including remote access, biometrics, wireless, and GPS. Our brands include Kaba®, LA GARD, Simplex®, PowerPlex, and E-Plex®. Please visit us at: http://www.kaba-adsamericas.com/united.
About United
United Airlines and United Express operate an average of more than 5,200 flights a day to 369 airports across six continents. In 2013, United and United Express carried more passenger traffic than any other airline in the world and operated nearly two million flights carrying 139 million customers. United operates nearly 700 mainline aircraft and, in 2014, will take delivery of 35 new Boeing aircraft, including the B787-9 as the North American launch customer, and will welcome 27 new E175 aircraft to United Express. The airline is a founding member of Star Alliance, which provides service to 195 countries via 26 member airlines. More than 85,000 United employees reside in every U.S. state and in countries around the world. For more information, visit united.com, follow @United on Twitter or connect on Facebook.